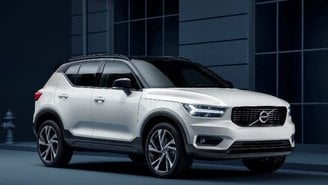 The 2019 Volvo XC40 will become the brand's smallest and latest offering when it goes on sale later this year, but the crossover is on path to ruffle some feathers in the compact hierarchy. The EPA recently announced official fuel economy ratings for the 2019 XC40, and the compact vehicle is poised to be a leader in fuel efficiency in the segment.
In its T5 all-wheel-drive trim, the XC40 will be able to get 23 miles per gallon in the city and 31 mpg on the highway, which gives the crossover a combined rating of 26 mpg. This puts it on par with other all-wheel-drive offerings from German competitors.
The Audi Q3 with all-wheel drive is rated to get 20 mpg in the city, 28 mpg on the highway, and 23 mpg combined. The BMW X1 xDrive28i is a little more fuel efficient with a rating of 22 mpg city, 31 mpg highway, and 25 mpg combined. Lastly, the Mercedes-Benz GLA 250 4matic shares the same fuel economy ratings as the new XC40.
When the car goes on sale later this month, it'll only be available in the T5 guise. The trim will feature a turbocharged 2.0-liter inline-four that generates 248 horsepower and 258 pound-feet of torque. The motor is matched to an eight-speed automatic gearbox, while all-wheel drive is standard. A T4 model is expected to arrive shortly after with a similar powertrain, but with less power – 184 hp – and front-wheel drive.
With its handsome styling, impressive interior design, and excellent fuel economy, the 2019 Volvo XC40 has could easily become a front runner in the segment.