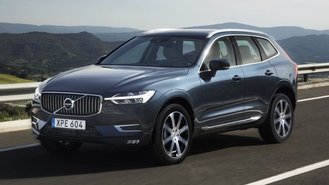 The Volvo XC60 is about to get a little more affordable. That's because order guides show the Swedish automaker is set to introduce a new base trim for 2019 that has a $2,300 price advantage over the current model.
While a lower MSRP may seem appealing, it'll come with at least one important catch. At the same time, higher trims will be getting price increases worth up to $3,550 due to changes in standard equipment.
Here's what you need to know.
Lower Price of Entry
For 2019, the T5 Momentum version of the XC60 will gain a new front-wheel drive model priced from $39,200. With a $995 destination charge, its MSRP will come in at $40,195, or $2,300 less than the current base price of $42,495.
Ever since the XC60 was redesigned last year, Volvo has only offered the XC60 with all-wheel drive. The change could boost the vehicle's appeal in areas of the country where all-wheel drive isn't a must-have feature.
Based on our analysis, the only real trade-off is that the trim will no longer come with leather. Instead, all Momentum trims will now come with leatherette. You can still add leather, but it's now a $1,600 option.
Interestingly, prices for the all-wheel drive Momentums are remaining unchanged from the current MSRPs of $42,495 (T5) and $45,895 (T6) despite losing leather. But that's not the only change in equipment.
More Features Further Up The Range
At the higher end, prices for R-Design and Inscription trims are going up by as much as $3,550 due to an increase in equipment. In a letter to dealers, the brand says this is meant to help reduce ordering complexity.
For 2019, the R-Design and Inscription will come with blind spot warning, park assist, a 12.3" navigation system, a new 600W Harmon Kardon audio system, power folding mirrors, a hands-free trunk lid and more.
In the case of a T6 Inscription, the vehicle's MSRP is subsequently going up from $49,695 to $53,245. With the higher price, buyers will be getting a lot of the features that used to require adding the Convenience and Vision Packages.
If you weren't planning to add that many options, this could feel like a pretty big increase. On the flipside, a buyer looking to spend $50k may expect these sorts of features to be standard to begin with.
Our Analysis
We think the lower entry price of the XC60 will likely help boost the vehicle's appeal with shoppers. Volvo says the move was made to better align itself with competitors. Based on what we see, that makes a lot of sense.
The least-expensive 2019 Acura RDX starts at $38,295 and comes with leatherette. The 2019 BMW X3, which recently got a new base trim called the sDrive30i, starts at $41,995 and comes with leatherette branded as Sensatec.
At $40,195, the new entry-level XC60 will land roughly in the middle of these vehicles. However, shoppers at the higher end should be aware that list prices may appear quite a bit higher than the previous year.
Last month, Volvo said it sold 11,245 XC60s to date in 2018. That's over 3.5 times more than the S60 (3,139), making it the brand's second top seller behind the XC90 (12,745).
See our full preview of the 2019 XC60 for more information.