SUV shoppers considering a Volkswagen Atlas will soon have a more affordable way to get some of the vehicle's premium features. Order guides reveal VW will soon introduce an SE version for the 2019 model year equipped with the automaker's 235 hp 2.0-liter turbo. Currently, the engine is only offered in the entry-level S grade.
The new SE 2.0T has been priced from $35,090, $3,200 more than the $31,890 base trim and $1,400 less than the $36,490 SE V6. Like the V6, the SE 2.0T gets you features like heated leatherette seats, a leather-wrapped steering wheel, proximity entry, push-button start, a larger touchscreen with 8-speaker audio, and more.
While the Atlas S starts at just $31,890, it lacks a number of premium features. Buyers who prefer the turbo don't have a way to add the optional panoramic roof or Technology Package to get features such as a blind spot monitor, adaptive cruise control, remote power liftgate, etc. With the new SE, that will soon become possible.
Based on our analysis, this represents somewhat of a reversal compared to what VW offered previously.
When the Atlas was first introduced for 2018, VW offered a slew of 2.0T models. However, in reality most ended up only being available via factory order. For 2019, VW discontinued every version of the 2.0T except for the S. Now that's changed, and VW says it has its reasons.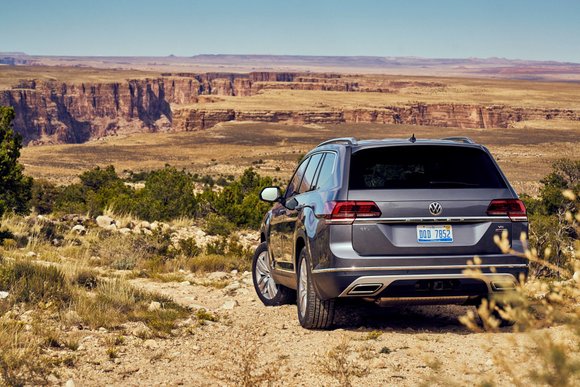 Per spokesman Mark Gillies, "The reason we want to offer these trims on the 4-cylinder is because we believe in this engine. The torque is equivalent to the V6 and is achieved at 1,600 rpms lower in the rev range. It is also slightly lighter, which leads to a slightly faster 0-60 mph time than the VR6 and it has better EPA fuel economy."
According to the EPA, the 2.0T does 3 mpg better in overall fuel economy compared to the V6 (22 mpg vs. 19). Anecdotal reports suggest the turbo does indeed feel quicker and more responsive despite a 41 hp difference in output (235 vs. 276).
Downsides to the 2.0T remain the same as before. First, the V6 offers better towing when properly equipped (up to 5,000 lbs. vs. 2,000). Second, VW still isn't offering an all-wheel drive option with the turbo, meaning anyone that needs power to go to all four wheels will need to step up to the V6.
Odds are shoppers may appreciate having a more affordable way to buy an Atlas with desirable features that doesn't require opting for the thirstier (and slower) V6. At $35,090, the SE 2.0T will soon undercut mid-grade rivals like the 2019 Honda Pilot EX ($35,375), Ford Explorer XLT ($35,495), and Subaru Ascent Premium ($35,170).
Pictured: 2018 Atlas