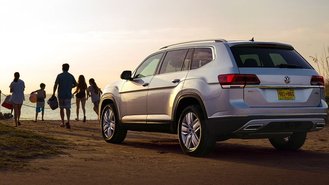 Although the Volkswagen Atlas gains a number of new features for 2019, the automaker is quietly reducing the number of versions you can buy with a 2.0T engine to a single trim. As a result, the cost to upgrade could be considerably more expensive than what shoppers may realize.
Based on our analysis of the latest order guides, shoppers may find themselves spending up to an additional $4,600 to upgrade to a front-wheel drive V6 because of a number of odd quirks in the way the trims are positioned. Here's what you need to know.
Fewer Choices
For 2019, the 235 hp Atlas 2.0T will only be offered in a single S trim with an MSRP of $31,890 including destination. At that price, the vehicle will undercut both the 2019 Toyota Highlander LE ($32,375 with base 4-cylinder) and the 2019 Ford Explorer Base ($33,360 with 2.3-liter EcoBoost).
However, any sort of upgrade now requires choosing the 276 hp Atlas S V6 because VW has discontinued SE and SEL versions with the turbo engine. Unfortunately, VW has simultaneously taken away the ability to buy an Atlas S V6 with front-wheel drive.
As a result, stepping up from the 2.0T to the V6 now requires shelling out $35,090, or an additional $3,200, because of the cost associated with all-wheel drive. Prefer front-wheel drive? You'll now have to step up to an SE V6, which has an MSRP of $36,490.
It may be hard to believe, but that now means the cheapest front-wheel drive V6 will be $1,400 more expensive than the cheapest all-wheel drive V6 ($36,490 vs. $35,090).
At that point, you're paying $4,600 more than a 2.0T Atlas with the same drive type ($36,490 vs. $31,890). That makes the front-wheel drive Atlas V6 a lot pricier than other three-row crossovers with a six-cylinder under the hood.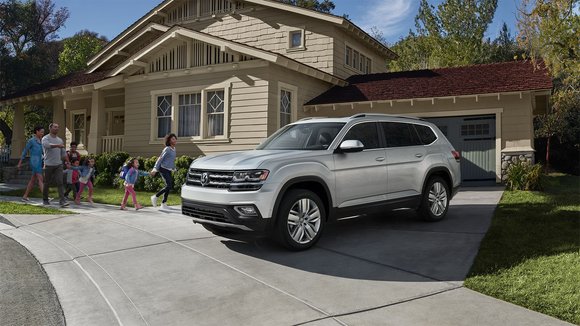 That's $2,065 more expensive than a Highlander LE V6 ($34,425 with front-wheel drive) and $4,045 more than the 2019 Honda Pilot LX ($32,445 with front-wheel drive). All three models come with advanced safety features like automatic emergency braking.
If you're wondering why VW is doing this, you're probably not alone. Buying a turbocharged Atlas has never been particularly straightforward. They're very hard to find in stock, possibly due to low demand but certainly not helped by the fact that VW only sells most versions with that engine via factory order.
On the surface, that means VW will continue to be able to advertise the Atlas with a relatively low MSRP (and with some pretty attractive lease payments). But the reality is that shoppers looking to make any sort of upgrade will probably end up paying substantially more.
Interestingly, incentive bulletins show VW is heavily incentivizing 2018 turbocharged Atlases at the moment with up to $1,500 in unadvertised dealer cash incentives. On top of that, all Atlases are eligible for a $1,000 bonus for as much as $2,500 in potential savings.
Having said all that, the V6 does offer more power and torque (276 hp and 266 lb-ft vs. 235 hp and 258 lb-ft) and access to a Towing Package with a 5,000 lb rating. Fuel economy figures haven't been posted yet for the 2019 Atlas, but last year's V6 only had about a 4 mpg penalty compared to the turbo (20 mpg vs. 24 mpg overall).