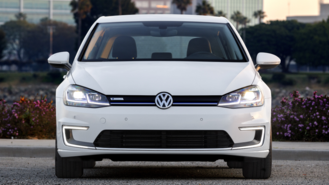 VW may have big ambitions down the road to bring EVs to more buyers, but for now the cost to get behind the wheel of an e-Golf is going up. Order guides show the brand is modifying standard features while raising prices by up to $1,550 for the 2019 model year.
First off, the entry-level SE trim has been priced from $32,790, which includes a destination charge of $895 and amounts to a $1,400 increase over last year's MSRP of $31,390. Next up, the SEL Premium will now start at $39,790, or $1,550 more than last year's price of $38,240.
Although the car will feature the same 124-mile range as before, the SE will now come with a DC Fast Charger, something that used to add an extra $995. It enables the car to recharge nearly 80% of its battery within an hour, assuming you have access to a DC fast charging station.
VW is also making its Driver Assistance Package optional in the SE for an extra $650. Previously, buyers had to step up to the SEL Premium to get this option. In the SE, it comes with automatic emergency braking with pedestrian detection, a blind spot monitor and adaptive cruise control with stop & go capability.
The SEL Premium will also now come standard with its own Driver Assistance Package, a system that takes everything mentioned above but adds a parking assistance feature and automatic high beams. Previously, the package cost an extra $1,075.
So are the changes worth the extra money? That depends.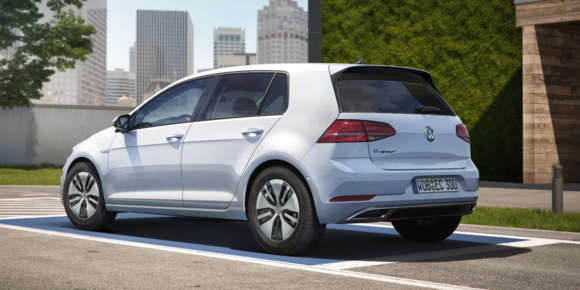 In general, buyers will probably appreciate not having to buy the most expensive trim to get the latest safety features. The addition of a standard quick charger is also nice, although the vehicle's base price reflects the additional cost.
Given that the 2019 Nissan LEAF ranges from $30,885 to $37,095 and comes with a lot of advanced safety features, some buyers may question whether or not the e-Golf is too expensive. Nissan will soon debut an extended range LEAF offering a range of up to 226 miles.
With tax credits cut in half for higher-profile competitors like the Chevy Bolt EV and Tesla Model 3, shoppers considering an electric car will probably be faced with some tough decisions. Incentive documents reveal deals for the 2019 e-Golf aren't shaping up to be particularly good either.
This month, VW is offering 2.9% financing for up to 60 months, plus a dealer cash incentive worth up to $3,000. In terms of leases, the 2019 e-Golf SE is listed at $319 for 36 months with $2,999 at signing, which equates to an effective cost of $402/month.
Based on our analysis, that makes the SE $72/month more expensive than a 2019 Nissan LEAF S here in Los Angeles ($330). At that price, shoppers may find the 2019 Chevy Bolt LT to be more appealing ($421) for an extra $19/month but a range of up to 238 miles.
As we reported last year, supplies of the e-Golf continue to be extremely limited. Apart from not being sold in all states, VW has been keeping the car stocked in token quantities prior to the arrival of its I.D. family of electric cars, which are due to arrive around 2020.
Learn more about the current e-Golf
Pictured: 2018 e-Golf