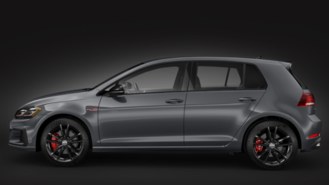 The class leader and obvious benchmark in the hot hatch segment, the Volkswagen Golf GTI, is getting a new limited-edition Rabbit Edition for the 2019 model year. The special-edition model is supposedly inspired by the original Golf, which was called Rabbit in the US, and, as order guides reveal, starts at $29,790 (including destination) for a model with a six-speed manual transmission. If you want the seven-speed DSG transmission, then it starts at $30,890.
With that price tag, the Rabbit Edition slots in nicely between the GTI S and SE models, which are priced at $28,490 and $32,690, respectively. That makes the Rabbit Edition $1,300 more than the S trim and $2,900 less than the SE.
For the extra money, the Rabbit Edition features 18-inch gloss black aluminum-alloy wheels, LED headlights with an adaptive front-lighting system, a black spoiler, and black mirror caps. On the inside, the seats have Rabbit badges, while the floor mats feature red stitching. The special edition also comes with advanced safety features, which include a blind-spot monitoring system, rear cross-traffic alert, and forward collision prevention.
The Rabbit Edition will be available in four colors: Urano Gray, Cornflower Blue, Deep Black Pearl, and Pure White. According to the order guide, Urano Gray and Cornflower Blue will be exclusive to the Rabbit Edition. Vehicles that are finished in Cornflower Blue won't begin production until December, though.
Motor Authority claims that the GTI Rabbit Edition will be a limited affair, as only 3,000 units of the hatchback will be built. If true, the special edition is an obvious choice for consumers looking to get into a hatchback that's fun to drive, but a little more unique.
The Rabbit moniker has a puzzling history that originated in 1975. While Volkswagen debuted the compact, first-generation hatchback as the Golf in other parts of the world, the automaker decided to name the vehicle "Rabbit" for the American market. By the time the second generation of the Golf rolled out in 1985, Volkswagen ditched the Rabbit name, deciding to use Golf. More recently, VW brought the Rabbit name back for the fifth-generation of the hatchback, before, once again, making the switch back to Golf for the sixth-gen model.