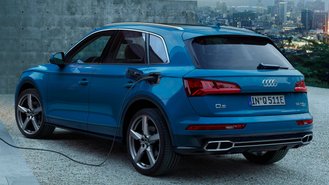 The plug-in version of the 2020 Audi Q5 has been priced from $53,895, a new order guide reveals. The pricing reflects a destination charge of $995 and will make the model $9,600 more expensive than the regular Q5 ($44,295) and $4,350 pricier than the upcoming 2020 BMW X3 Plug-In ($49,545).
Officially called the 2020 Audi Q5 55 TSI e Premium with quattro S tronic, it will be the brand's first plug-in hybrid SUV in the U.S. Although the brand sold a hybrid Q5 back in 2016, it wasn't a plug-in and offered a mere 4 mpg advantage over the gas model. The Q5 is currently the brand's bestseller with 67,516 sales in 2019.
Audi says the vehicle will offer 20 miles of range on EV power alone, a noticeable drop from the 25.9-mile range the brand initially quoted based on the European WLTP test cycle. The Q5 will offer 65 MPGe of fuel efficiency, which is higher than the 56 MPGe rating of a 2019 Mercedes-Benz GLC350e.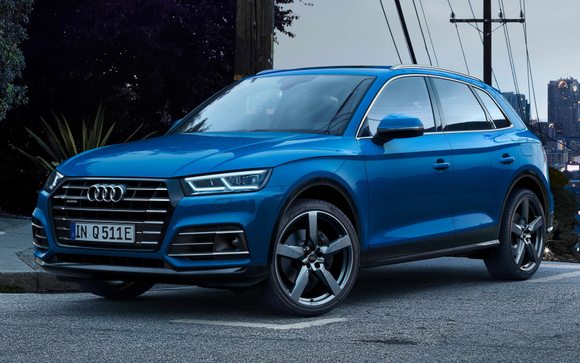 According to Audi, the Q5 plug-in will produce a combined output of 362 hp and 369 lb-ft based on a 2-liter turbocharged engine and 14.1 kWh battery. This translates to a substantial power upgrade compared to the standard Q5 and its 2-liter turbo with 248 hp and 273 lb-ft. Both come standard with all-wheel-drive.
Some of the plug-in's key features include 19" wheels, heated seats, xenon lights, leather, a power tailgate, Audi's "virtual cockpit", and auto emergency braking. The Premium Plus style adds LED lights, a panoramic roof, blind-spot monitor, and more. The Prestige adds acoustic glass, Bang & Olufsen audio, and a head-up display.
So will the Q5 plug-in be a good value? That's unclear. First, the vehicle will be $4,350 pricier than the X3 plug-in. It will also be $2,250 more expensive than the 2019 Mercedes-Benz GLC350e, another all-wheel-drive plug-in capable of just 10 miles of EV driving with a sticker price of $51,645.
Having said all that, MSRPs for plug-ins don't always tell the whole story. For example, Audi says the federal plug-in tax credit will offer up to $6,712 of savings. With state and local incentives, the savings could be even greater.
Editor's Update: Audi has released official specs, including range, fuel economy, and tax credit info. We've updated the article accordingly.