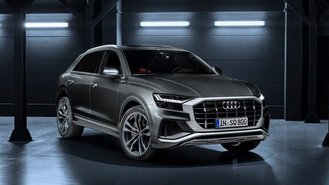 While Audi shocked every enthusiast in the U.S. by announcing that it would be bringing the RS6 Avant to our shores, we think more buyers would probably be happier with a high-performance SUV. Cue the music, because Audi's bringing the SQ7 and SQ8 to America.
For the U.S., this will be the first time Audi has ever brought the SQ7 to our market. The SQ8, which is a slightly smaller and sleeker version of the SQ7, will also make it our way. Both models will sit below the RS Q8 when it comes to performance. The SQ7 and SQ8 will feature 4.0-liter twin-turbo V8 engines that will make 500 horsepower and 568 pound-feet of torque. An eight-speed automatic will be standard on both models, as is quattro all-wheel drive. Both SQ versions of SUVs are going to be much more powerful than their standard versions.
The Q7 comes with a turbocharged 2.0-liter four-cylinder that makes 248 hp as standard, while a supercharged 3.0-liter V6 that is rated at 329 hp is available. The sportier Q8 comes with a 335-hp turbocharged 3.0-liter V6 as its sole engine. For consumers seeking an even more powerful SUV from Audi, there's the RS Q8, which features a twin-turbocharged 4.0-liter V8 that produces 600 hp and 590 lb-ft of torque. That model will still be the king of SUVs in Audi's lineup.
For SUVs that weigh roughly 5,000 pounds, 500 hp is more than enough to get down the road quickly. Audi claims both SUVs can get to 60 mph from a standstill in 4.3 seconds and have a top speed of 155 mph.
In addition to the boisterous engine, the SQ7 and SQ8 are available with other high-performance parts. An available sport differential is capable of adjusting torque between the rear wheels, optional active roll stabilization can limit body roll in corners, and massive 22-inch wheels will be offered. Rear-wheel steering is included as standard for both SUVs, which should improve cornering on tight roads. The SQ7 and SQ8 can also send up to 80 percent of the engine's power to the rear axle, too.
Compared to the regular Q7 and Q8, the SQ models aren't dramatically different in the styling department. The SQ7 and SQ8 have larger wheels, quad exhaust tips, silver mirror caps, and air intake blades, but they look awfully similar to the regular versions of the SUV. The interiors come with S sport front seats that have cross-stitched leather. The seats are heated and ventilated, too.
Pricing hasn't been announced yet, but we expect the SQ7 to start somewhere around the $70,000 mark with the SQ8 being closer to $80,000. Both SUVs are expected to go on sale later this spring. The SQ7 and SQ8 will compete with the Porsche Cayenne Turbo, Porsche Cayenne Turbo Coupe, BMW X5 M, BMW X6 M, Mercedes-AMG GLE 63 S, and Mercedes-AMG GLE 63 S Coupe.
First the RS6 Avant and now the SQ7 and SQ8, it looks like Audi's finally bringing more of the brand's European vehicles to the U.S. It could be part of the automaker's plan to have more options in niche segments or to have a more cohesive global lineup. Either way, we're happy to see more high-performance vehicles with Audi badges in the U.S.