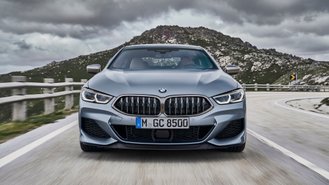 BMW expanded its 8-Series lineup with the Gran Coupe, a longer, four-door version of the two-door model. Everything from the windshield back has a unique design, the German automaker lengthening the car's wheelbase and overall length. The two additional doors allow seating for five, with improved legroom, shoulder room, and headroom.
BMW will offer the 8-Series Gran Coupe in two distinct flavors. The entry-level 840i Gran Coupe starts at $85,895 (all prices include destination charges). BMW's 3.0-liter twin-turbocharged inline-six engine powers the rear wheels, making 335 horsepower and 368 pound-feet of torque. The 840i xDrive Gran Coupe, which offers all-wheel-drive, starts at $88,795.
The top-tier 8-Series Gran Coupe is the M850i xDrive, which replaces the twin-turbocharged inline-six with BMW's twin-turbocharged 4.4-liter V8, which makes 523 hp and 553 pound-feet of torque, capable of rocketing the hefty sedan from zero to 60 miles per hour in a claimed 3.7 seconds. The M850i xDrive is $20,000 more expensive than the 840i xDrive, starting at $109,895.
Competitors for the new BMW 8-Series Gran Coupe are few, yet powerful. Mercedes has both the S-Class and AMG GT 4-Door Coupe, another four-door version of a two-door car. However, the entry-level GT 4-Door Coupe starts at nearly $100,000. The Aston Martin Rapide AMR is another four-door super saloon, but it's limited in quantity and is more than double in price.
BMW's expansion of the 8-Series from a coupe and convertible into a full-blown sedan will make the platform much more appealing to consumers who may not want to sacrifice rear seat space. The sedan loses a lot of the coupes aesthetic pleasantness; however, the Gran Coupe is still a stunning sedan to look at, and it's a car customers would eagerly purchase.