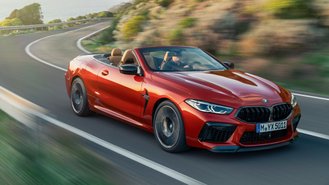 Big and fast are often oxymorons in the automotive world. However, luxury cars have bridged that gap, combing opulent vehicles with uncompromised performance. The newest luxury land yacht is the 2020 BMW M8, a sleek grand tourer available in both coupe and convertible form.
Under the hood is BMW's twin-turbocharged 4.4-liter V8 borrowed from the BMW M5. It makes the same 600 horsepower and 553 pound-feet of torque. However, there's more. BMW will offer an M8 Competition model that increases horsepower to 617. The Competition trim is available for both body styles. Power hits all four wheels through the eight-speed Steptronic gearbox and BMW's xDrive all-wheel-drive system.
While the M8 is large and in charge, BMW has made it quite fast. A sprint to 60 miles per hour takes 3.1 seconds in the standard BMW M8 coupe. The convertible is one-tenth of a second slower at 3.2 seconds. Upgrading to the Competition trim makes hitting 60 mph one-tenth of a second faster for both the coupe and convertible—3.0 and 3.1 seconds, respectively. Top speed is electronically limited to 155 mph; however, the Competition trim ups that to 190.
Large, luxurious grand tourers aren't rare, and the BMW M8 will have plenty of competition including the Lexus LC500, Mercedes-Benz S-Class Coupe, Aston Martin DB11 V8, and more. However, they are far from equal. For example, the Aston Martin packs a similar-sized engine—an AMG-sourced twin-turbocharged V8. However, it only produces 503 hp and 498 lb-ft of torque. But it's no slouch, hitting 60 mph in 3.7 seconds. The Aston starts at just over $200,000.
Pricing for the BMW M8 is modest by comparison. The M8 coupe starts at $133,000 while the convertible commands a premium, starting at $142,500. The Competition trim starts at $146,00 and $155,500 for the coupe and convertible, respectively.
Pictured: 2020 BWM M8 European Model