Boasting sharper looks, more space, and new standard features, the new Encore GX will be sold alongside the subcompact Encore crossover for 2020. However, despite offering an array of potential advantages for consumers, a recent order guide reveals that the GX will actually be less expensive to buy.
On paper, the Encore GX has been priced from $25,095 with destination in Preferred trim, $900 more than the cheapest 2020 Encore ($24,195). However, when you consider that base Encores exist mainly for advertising and are excluded from incentives, comparing Preferred trims results in a $500 advantage for the GX ($25,095 vs. $25,595). Higher up the range, the GX Essence reaches $29,495 with front-wheel-drive, $800 less than an Encore with the same trim ($30,295).
Under the hood, the GX comes with a 137-hp turbo paired to a CVT. A 155-hp mill is standard in all-wheel-drive styles and optional in Select and Essence trims. In addition to the more powerful engine, all-wheel-drive gets you a 9-speed automatic. In terms of size, the GX is 171.4 inches long, 3 inches more than the Encore. Front legroom is nearly identical (40.9 inches vs. 40.8) but the GX offers a 4.7 cubic-foot advantage in cargo capacity (23.5 cu. ft. vs. 18.8 behind the 2nd row).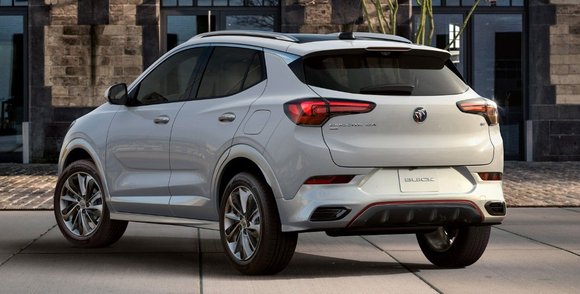 On the surface, we suspect the GX could be a compelling alternative to shoppers considering an Encore. It's also worth considering that the regular Encore is no longer offered with the option of a 153-hp turbo. Given our last review's finding that the base engine in the Encore suffered under load, those looking for a small SUV with a bit more pep could find the GX an attractive choice. We'll have to wait for our full test of the GX to know for sure.
Will the GX enable Buick to better compete in the premium SUV segment? That depends.
At $25,095, the GX will heavily undercut vehicles like the 2020 Lexus UX ($33,325). Compared with a regular Encore, the GX appears to offer a clear advantage when it comes to safety features. For example, all styles will come with automatic emergency braking. In contrast, the Encore's most advanced tech is arguably forward collision alert and lane departure warning but only in configurations costing over $31,000.