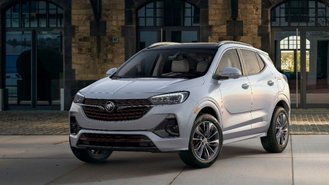 The small crossover segment is huge right now. However, Buick's lineup has just one offering, the Encore. That's about to change in the U.S. with the introduction of the Encore GX a newer and larger Encore set to sit between the Encore and Envision. It'll arrive in early 2020.
However, Buick is coy on details. It divulged no powertrain information and is keeping the vehicle's dimensions under wraps. What we do get is cargo space measurements. The Encore GX has five cubic feet more cargo space than the standard Encore; however, it is three cubic feet smaller than the Envision, which sounds like it's positioned nicely between its two stablemates.
A report from GM Authority earlier this month says the Encore GX will have a 104-inch wheelbase inside a 175.7-inch length. That's compared to the Encore's 100.6-inch wheelbase and 168.5-inch length. The Envision measures 108.3 inches in length and 184.7 inches in length.
The Encore GX gets Buick's latest design language, which is an improvement over the standard Encore's more bulbous appearance. The front end sports sleek headlights, with chrome accents spanning outward from the grille emblem. Along the side, the body features a sharp scallop that contrasts the design line that reaches from the rear door to the taillights. At the rear, the roof slopes to meet the raked rear hatch glass. The same sharp design language appears inside, too.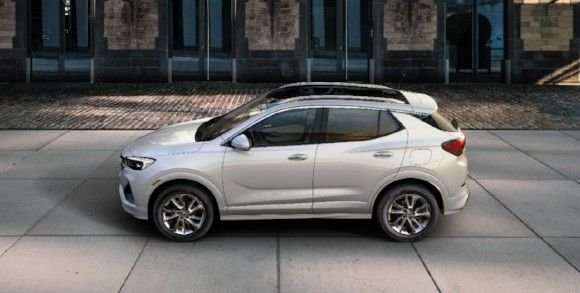 Buick didn't release any powertrain information for the Encore GX. However, we do know the 2020 Encore will lose its most powerful engine — the 1.4-liter turbo four-cylinder making 138 hp with 148 pound-feet of torque. That could mean the engine will be the GX's base offering with another engine from GM occupying the more-powerful, high-trim offering.
When the Encore GX goes on sale next year, it'll fill a big price gap in Buick's lineup. The Encore starts at $23,200 white he Envision commands $31,995. That leaves plenty of room for the Encore GX in Buick's pricing scheme. Hopefully, we'll learn more about the GX closer to its launch.