Cadillac is shaking things up for the XT5 crossover with big (and somewhat confusing) changes in price for 2020. Order guides show the model's starting price will increase by $2,400 but that higher trims will be up to $5,900 more affordable. Changes in equipment will also have a major impact on the cost of a V6-powered XT5.
For 2020, Cadillac will offer the XT5 with just three trims: Luxury, Premium Luxury, and Sport. The base XT5 (currently $42,690 with destination) has been discontinued, and the range-topping Platinum has been relegated to a package that can be added to the Premium Luxury or Sport trims.
Pricing for the 2020 XT5 Luxury will start at $45,090, $2,400 more than a base 2019 XT5 but $4,400 less than the outgoing Luxury trim ($49,490). While that may sound like a deal, the Luxury trim will no longer be offered with a V6. Instead, it'll come with a 2-liter turbo making 237 hp.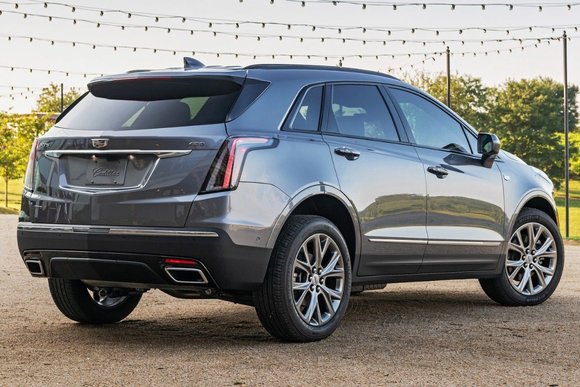 To get the 310-hp V6, you'll have to step up to the Premium Luxury, which comes with the turbo but offers the V6 for an extra $1,000. Pricing starts at $49,790 with the turbo and $50,790 with the V6. This makes a V6 XT5 $8,100 more expensive than the previous year since you used to be able to get the engine in the base trim.
At the top of the range, the 2020 XT5 Sport will only be offered with the V6 and starts at $56,090. The optional Platinum Package requires a slew of options that can lift the price as high as $65,540. For reference, the larger 2020 Cadillac XT6 Sport starts at $58,090 and reaches nearly $68,000 with the Platinum Package.
So are these changes good for consumers? That depends. If you want the V6, you may want to consider a 2019 model. That said, the V6 gets unimpressive fuel economy at 22 mpg and the addition of a turbo could offer an advantage. EPA figures for the turbo have not yet been posted.
It may also be worth noting that the difference in price between the most expensive XT4 and the cheapest XT5 is set to increase from $100 in 2019 to $1,800 for 2020. Depending on your priorities, the 2020 XT5 could be either cheaper or more expensive than it was before.
Learn about the current XT5 on sale now »
Pictured: 2020 XT5