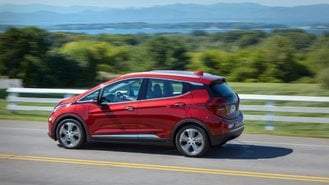 A lot has changed on the electric-vehicle front since the Chevrolet Bolt EV originally came out for the 2017 model year. New electric cars have come out that have more range and are cheaper than the Bolt EV, so it's almost like it's getting overshadowed. Not content with being behind Hyundai, Kia, and the Tesla Model 3, Chevrolet has reworked the Bolt EV's cell electrodes in the battery for an extra 21 miles of range.

The 2020 Bolt EV now has an EPA range of 259 miles, which is roughly a 9% increase from the vehicle's previous range of 238 miles. To get the extra miles, Chevrolet's engineers, according to the automaker, improved the energy of the cell electrodes by making changes to the cells' chemistry. This vague change results in the Bolt EV's lithium-ion battery pack having higher energy capacity – 66 kWh from 60 kWh.
With 21 more miles of range, the Bolt EV is now ahead of options like the Hyundai Kona Electric (258 miles), Kia Soul Electric (243 miles), and Tesla Model 3 Standard Range (220 miles) when it comes to being able to travel without needing to be charged.

Pricing for the 2020 Bolt EV isn't out yet, but last year's model started at $37,495. The Soul EV doesn't have a price yet, while the Kona Electric costs $38,045 and the base Model 3 starts at $40,190. If Chevrolet manages to keep pricing down, the Bolt EV will be even more competitive against non-luxury EVs.