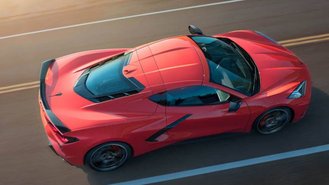 The 2020 Chevrolet Corvette could be considered one of the most significant automotive announcements this year. Somehow, the Corvette team not only gave the iconic American sports car a new layout, putting the engine behind the driver for the first time, they also kept it powerful and affordable. That's a deadly combination that's led to the 2020 Corvette being "nearly sold out," according to a new report from Autoblog.
General Motors design chief Michael Simcoe told a large crowd attending the Concours d'Elegance of America in Michigan that he thought the company had already hit first-year production numbers with orders. Autoblog pulled Simcoe aside and asked for specifics. Simcoe told the publication that it's "nearly sold out." However, he wouldn't elaborate further, so we don't know what the production number is for the new Corvette.
The 2020 Corvette takes the car and turns it from a front-engine vehicle to a mid-engine one. This is similar to the likes of Ferrari, Lamborghini, and McLaren. However, staying true to its (relatively) affordable performance past, Chevy says it'll start at under $60,000. That's quite remarkable considering real competitors cost double or triple the price.
Sadly, we don't have all the details just yet about the 2020 Corvette. It's powered by the new 6.2-liter LT2 V8 engine making 495 horsepower and 470 pound-feet of torque when equipped with the performance exhaust in the Z51 Performance Package. However, we don't know how much that package costs on top of the sub-$60,000 price tag, nor do we know for certain how much horsepower and torque the mill makes without the performance exhaust. It's been reported it'll make 490 hp and 465 lb-ft of torque.
Corvette sales tend to fluctuate wildly year from year, often ramping up as new, sportier high-performance models debut. As the world climbed out of the recession a few years ago, sales were low at 12,624 in 2010. However, by 2014, the first year of the C7, Corvette sales nearly doubled to 34,839 before tapering off to 18,791 sold last year. How many 2020 Corvettes the automaker will make is a mystery, but those wanting one should act fast.