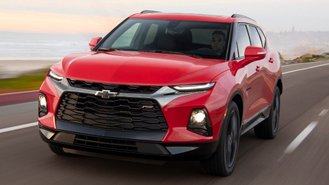 While the Chevy Blazer already offers sharp styling and performance, a new Redline Edition promises even sportier looks for 2020. Chevy's latest order guide shows the 2020 Blazer Redline Edition will be available in 2LT and 3LT styles with prices starting at $37,735 including destination.
In the case of the 2LT, the option adds $3,740 to the vehicle's MSRP of $33,995, a cost that's split between the $1,895 Redline Edition and required $1,845 Convenience & Driver Confidence Package. In the 3LT, the Redline adds just $1,895, bringing its price to $40,090.
Although Chevy hasn't released photos yet of the Redline, the order guide says it will come with 20-inch wheels painted in gloss black with red accents, black badges outlined in red, and black trim in areas like the door handles, mirror caps, and window surrounds.
Will the Redline be an appealing choice in terms of value? That depends.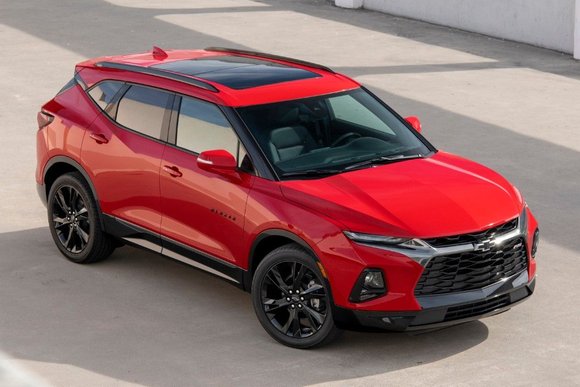 For 2020, Chevy is offering a 230-hp turbo as standard equipment in the 2LT and 3LT. However, as we pointed out yesterday, Chevy is offering the option to upgrade to the same 308 hp V6 as the RS for an extra $500. Unless the turbo ends up with a big advantage in fuel economy, the V6 could prove to be a superior value.
In the case of a 3LT Redline with the V6, shoppers will be looking at an MSRP of $40,590. Meanwhile, Chevy has priced the RS at $41,795. That's a difference of just $1,205. Here, the RS could be a worthwhile upgrade. But what if you just want sporty accents and don't need the features of a 3LT?
At $38,235, we think a 2LT Redline with the V6 could be a compelling option. That's a $3,560 advantage in price compared to an RS.
Will the Redline Edition be a hit? That remains to be seen. With strong competitors like the Ford Edge, Honda Passport, and Hyundai Sante Fe all vying for buyers' attention, Chevy appears to be focused on offering flavors to suit every taste.
Learn more about the 2020 Blazer »
Editor's Note: 2019 Blazer RS pictured