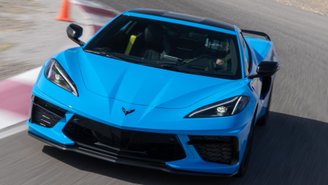 The all-new 2020 Chevy Corvette is finally starting to arrive at dealers following a delay in production. However, our analysis finds that locating one anywhere near the car's official starting price of $59,995, or one that hasn't already been sold by a dealer, could be particularly challenging for consumers right now.
For example, out of 291 C8s listed nationally on the automotive website Autotrader, the least expensive car is a 2LT Coupe in Miami, Florida available in Black with Adrenaline Red interior and an MSRP of $67,295. The most expensive listing is an Arctic White 3LT Coupe located in Scottsdale, Arizona priced at $112,600.
Sadly, the $60k base model appears to be virtually impossible to find. Having said that, we generally find that dealers receive well-equipped styles first when an important model is redesigned. Curiously, we're also finding that a number of listings online appear to be for cars that have already been sold.
These are sometimes marked "Sold" or "Sold Order," but could potentially not be labeled at all. With production reportedly cut by 20%, we expect most C8s to sell out almost as soon as they arrive. Some dealers are even resorting to auction site eBay to get the most they can for Chevy's newest sports car.
For example, a Pennsylvania dealer is listing a 1LT Coupe with an MSRP of $66,990. The car comes with the Z51 Package ($5,000), Magnetic Ride Control ($1,895), and Battery Protection ($100). After 36 offers, the latest bid is $82,200 — an over $15,000 increase in value after less than a week online.
That said, the fact that the car can command a premium is a clear indicator of just how sought-after the car is. Chevy managed to receive 37,000 reservations for the C8 late last year, leading some to conclude that the car was sold out. However, shoppers should be aware that not every reservation may translate to a sale.
As a result, the chances of finding a C8 could be greater than some might think for those willing to pay the right price.
Potential buyers looking to score a discount will likely be disappointed. There are still no incentives to speak of, and our analysis recently found that lease rates can make a $60,000 C8 more expensive than a $72,000 Jaguar. Things could change, but we think it's unlikely at this stage.