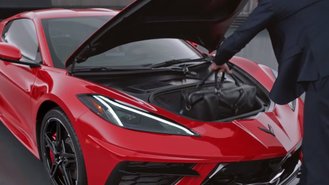 While sports cars can often sacrifice cargo capacity to some degree, the 2020 Chevy Corvette will offer a dual-trunk design thanks to its mid-engine layout. Up front, the car will feature a deep front trunk, or "frunk", that GM says is capable of storing a small bag large enough to fit in an airline storage bin.
In contrast, the current Corvette reveals a massive V8 engine when popping the hood. Now, you'll be able to get your gym bag or pull out your groceries. Front trunks are sometimes seen in mid-engined exotic cars and vehicles with unique drivetrains like the Tesla Model S.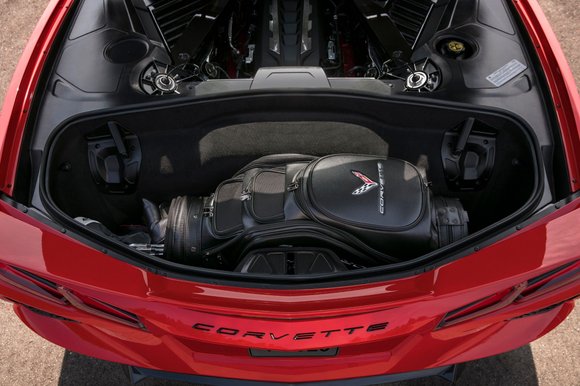 The rear trunk is narrower but will fit up to 2 golf bags. Alternatively, the area is designed to store the car's removable hardtop. Altogether, Chevy says the Corvette will offer up to 12.6 cu. ft. of cargo volume. That's down slightly from the current car's 15 cu. ft. capacity.
To save on weight, the cargo areas use a proprietary resin and ultra-light fiberglass GM claims is so light that it can actually float on water. Based on what we know so far, it appears the new Corvette won't sacrifice much day-to-day utility despite its radical new design.
Check out the video below to see the new Corvette's trunks in action.