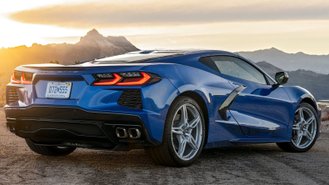 The time to buy a 2020 Chevy Corvette appears to have come and gone, with roughly 30 cars still available for sale in the United States. Those looking to buy the virtually sold-out car ahead of Memorial Day will likely experience high dealer markups or offers to place an order for the 2021 model year. Here's what we found.
Several major 3rd-party car listing sites show around 30 C8s still left in stock across the entire U.S. Although the car starts at $59,995 with destination, base C8s have been virtually non-existent and we're seeing just 2 cars advertised under $70,000 as of this writing. A little more than half of the cars are over $80,000.
The most expensive car appears to be a 3LT Coupe in Salt Lake Valley, Utah at $139,210. That's a $50,000 markup over its stated MSRP of $89,210. The markup is almost enough to buy a Porsche Macan (MSRP $52,250). While C8 markups aren't exactly unusual, some buyers may find this one particularly egregious.
At Kerbeck Corvette, said to be the largest Corvette dealer in the country, there are no C8s listed online. When asked about the lack of inventory, the Atlantic City-based dealer responded: "We pre-sold all of our 2020 Corvettes as well as the first few months of 2021s." The dealer is now taking deposits for the 2021 Corvette.
In addition to being one of the most hotly-anticipated cars of this year, the C8 has been beset with challenges that have made it difficult to buy one. Before production stopped due to the coronavirus pandemic, GM reportedly cut production by 20% and is said to have stopped taking orders for the current model.
Although the C8 thoroughly impressed reviewers and is one of the top performance values, it is potentially one of the year's biggest unfulfilled promises. We still haven't seen any $60,000 base models, nor any convertibles actually in stock. For now, it appears buyers will have to get comfortable with waiting.