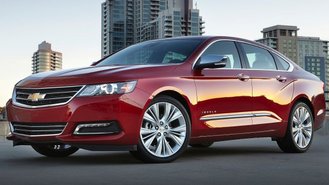 The Chevrolet Impala is getting a price hike for its final year, according to the latest order guide. The entry-level LS and 4-cylinder base engine are both gone, leaving just two V6-only styles: LT & Premier. This will result in a new base price of $32,495, $3,600 more than the previous year's lowest MSRP of $28,895.
At $32,495 with destination, the 2020 Impala LT is just $5 more than a similarly equipped 2019 Impala LT ($32,490 with V6). The Premier continues unchanged at $37,595. Even with the changes, the LT still manages to undercut the 2020 Nissan Maxima S ($35,145) and 2020 Toyota Avalon XLE ($36,755).
Interestingly, this will make the Impala $2,000 more expensive than the cheapest 2019 Buick LaCrosse, which starts at $30,495. Better-equipped versions of the LaCrosse currently feature factory discounts worth up to 16% off MSRP, or over $7,600 off in the case of an all-wheel-drive Avenir model.
Having said all that, will consumers even notice the changes? The Impala continues to be a slow seller and the LS is the least-loved style. According to Chevrolet spokesperson Kevin Kelly, LT and Premier grades account for about 90% of sales.
Those looking for advanced safety features will likely find competitors to offer more value.
For example, the 2020 Avalon and Maxima both come standard with auto emergency braking in all grades, whereas the Impala only offers it as an option in the most-expensive trim, bringing the car's price to nearly $40,000.
The 2020 Impala is on sale now at dealers nationwide.
Pictured: 2019 Impala