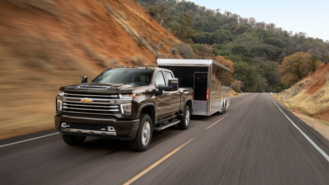 When an automaker, especially one of the Detroit three, comes out with a new pickup truck, it has to outshine the others in one way or another. Chevrolet took the wraps off of the all-new 2020 Silverado HD and it trounces the competition when it comes to towing.

The major headline for the new Silverado HD is its maximum tow rating of up to 35,500 pounds. That bests the 2019 Ram 3500, which can tow up to 35,100 pounds and the 2019 Ford F-350 that has a maximum rating of 35,000 pounds. Ford, though, just added some new engines to the 2020 Super Duty that it claims will help raise the F-Series' capabilities even higher. For now, the new Silverado HD is the king of the hill.

If you want the Silverado HD with the most towing capacity, you'll have to opt for the new Duramax 6.6-liter turbodiesel V8 that generates 445 horsepower and 910 pound-feet of torque. While those figures are astonishing, Ram's available 6.7-liter turbodiesel inline-six cranks out 400 hp and 1,000 lb-ft of torque. The last figure is best in class. Chevrolet's engine is paired to a new 10-speed automatic transmission.

Maximum payload capacity is rated at 7,466 pounds for the new Silverado HD. That figure is slightly behind the F-350 (7,640 pounds) and Ram 3500 (7,680 pounds).

Consumers that aren't looking for the best of the best have another powertrain to explore. The base engine is new for 2020 and is a 6.6-liter V8 that's good for 401 hp and 464 lb-ft of torque. That engine is paired to a six-speed manual transmission.

With maximum towing up by 52 percent, Chevrolet had to make a lot of other improvements. The Silverado HD's ladder frame is stronger, the pickup's suspension has been enhanced, larger front and rear axles have been added, bigger prop shafts are now part of the picture, and there's a new 28-inch fan to keep things cool.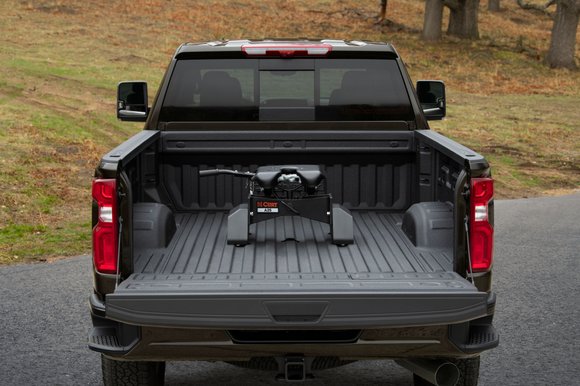 With the Silverado HD's new claim to fame as being the most capable option for towing, Chevrolet smartly wanted to make it easier for drivers to tow large cargo. To that end, the automaker offers a bunch of high-tech features that should make towing a more manageable task. The Silverado HD features an Advanced Trailering System that brings 15 available cameras and HD Surround Vision. There's a new accessory camera that can be mounted to a trailer that lets the driver practically see right through whatever they're towing, too.

Other tech features include Park Grade Hold Assist, which uses all of the truck's brakes to keep the vehicle, and whatever you're towing, in place on an incline, and a new after-run feature that keeps the diesel engine cool by alerting the driver to keep the vehicle on for a while after some heavy towing – if the driver ignores the warning, the remote-start system takes over and keeps the engine running for 15 minutes.

The 2020 Silverado HD will go on sale later this year, with pricing set to be announced at a later date.