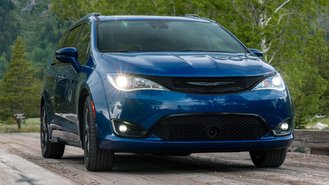 The 2020 Chrysler Pacifica and Voyager may look practically identical, but order guides show the two minivans will feature very different prices when they go on sale later this year. Based on our analysis, starting prices for the Pacifica will be up to $6,510 more expensive than the Voyager.
The main reason for the difference is that the Pacifica is dropping its two most affordable trims, the L and LX. The new base trim will be the Touring with an MSRP of $34,990 with destination, followed by the Touring L ($38,240), Touring L Plus ($41,040), and Limited ($45,940).
At $34,990, that will make the cheapest Pacifica $6,260 pricier than the previous year ($28,730 for the 2019 Pacifica L) and $6,510 more expensive than the lowest-priced Voyager. The Voyager L has been priced from $28,480 and will essentially replace the Dodge Grand Caravan (MSRP $28,535).
One of the main differences between the Pacifica and Voyager will be access to technology. For example, the Voyager won't offer features like auto emergency braking on any trim, while the least-expensive 2020 Pacifica will offer it with the optional Advanced Safetytec Group ($995).
To put this all in perspective, the 2020 Toyota Sienna offers a wide range of features (including auto emergency braking) for just over $32,000. The 2019 Honda Odyssey starts at $31,285 but doesn't offer driver-assistance tech without upgrading to at least the EX trim ($35,255).
Learn about the current Pacifica on sale now »
Pictured: 2020 Pacifica