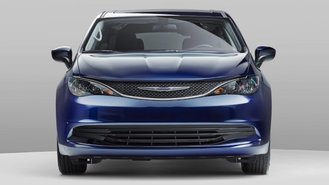 Sagging sales numbers be damned, Chrysler is doubling down on minivans with a new entry-level version of the Pacifica dubbed the 2020 Voyager. Early order guides reveal pricing for the Voyager L will start at $28,480 including destination, allowing the model to undercut competitors like the 2020 Sienna by over $4,000.
Consumers also have the option of choosing the Voyager LX ($31,290), while the range-topping LXI variant ($34,490) will only be sold to fleet customers. For reference, Chrysler Pacifica prices currently range from $28,730 to $46,190, with a plug-in hybrid that starts at $41,740 and tops out at $47,290.
At $28,480, the Voyager L has almost the exact same starting price as the Dodge Grand Caravan ($28,535). The Voyager is believed to be the Grand Caravan's long-awaited replacement, although one has to wonder what this will mean for shoppers weighing a Voyager versus an entry-level Pacifica.
Those comparing specs will notice that the Voyager won't be offered with advanced driver assistance features like automatic emergency braking and adaptive cruise control at any price. The most advanced safety features will essentially be blind spot warning and parking assist, which won't be standard.
Although Chrysler says the Voyager "is a no compromise minivan," there are clearly compromises in terms of technology. One also has to wonder how Chrysler will choose to differentiate prices with the Pacifica. A possibility could be through different rebates, although it's too early to say for certain.
At the moment, 2019 Pacificas are eligible for up to $2,500 in discounts ($1,000 less than last month), while shoppers still able to snatch up a 2019 Sienna will find up to $3,000 based on local offers here in Los Angeles. Kia Sedonas feature as much as $4,000, potentially driving down prices to the $25,000 range.