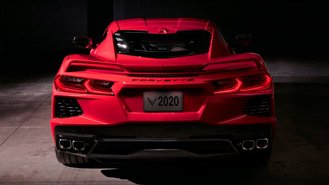 Those looking to be among the first to snatch up the 2020 Chevrolet Corvette are taking some unusual steps to ensure they don't pay any more than full MSRP. With unconfirmed reports of markups as high as $30,000, enthusiasts are crowdsourcing prices to avoid being taken advantage of.
A thread on Corvette Forum is keeping a running tally of dealers users claim are willing to sell at MSRP, as well as those asking for a high deposit or additional dealer markup (or ADM). Some of the more extreme cases allege markups as high as $30,000. The car's MSRP starts at $59,995.
Although we were unable to independently confirm the most severe cases, a dealer in Dallas was perfectly upfront about requiring a $5,000 deposit and $5,000 markup of the car's price. The deposit is refundable unless a buyer backs out after the car arrives (that interaction is shown below).
Based on what we've seen, deposit prices range from $1,000 to $5,000, but requirements vary and confusion is rife. A post on Reddit's AskCarSales talks about a dealer that allegedly asked for a $5,000 "deposit" that can't be applied toward the purchase price.
While markups on a hot new car shouldn't be all that surprising, shoppers shouldn't be afraid to pool their efforts to get the best possible price. Some may find this to be one of the rare cases in which simply paying MSRP is a chore itself for a car that has seen strong early demand.
Reports suggest some dealers are no longer taking orders for 2020 inventory, and there have already been claims that prices are set to go up. Like any car, we recommend reading any fine print carefully to ensure you know exactly what you'll be getting and how much it's going to cost.
Learn more about the C8 Corvette »