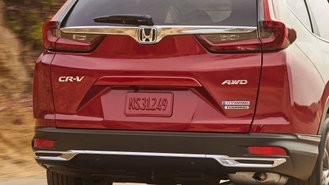 Honda introduced a hybrid variant to the CR-V lineup for the 2020 model year and now, we know how much it will cost. Pricing for the base CR-V Hybrid LX starts at $28,870 including destination and goes up to $37,070 for the range-topping Touring trim. The hybrid powertrain represents an increase of $2,700 over the non-electrified version of the CR-V.
Official fuel economy figures for the CR-V Hybrid have been announced, too. In all trims, the CR-V Hybrid is rated by the EPA to get up to 40 mpg in the city and 35 mpg on the highway. That comes out to a combined rating of 38 mpg. That's a large increase over the regular CR-V, which is only rated to get up to 30 mpg combined.
When it comes to fuel economy, the CR-V Hybrid is slightly behind its competitors. The Toyota RAV4 Hybrid, which is the most obvious opponent, can get up to 40 mpg combined. The other compact hybrid SUV on the market, the Ford Escape Hybrid (with all-wheel drive) is also rated at up to 40 mpg combined. Unlike other options, the Escape Hybrid is available with front-wheel drive, which is rated at 41 mpg combined.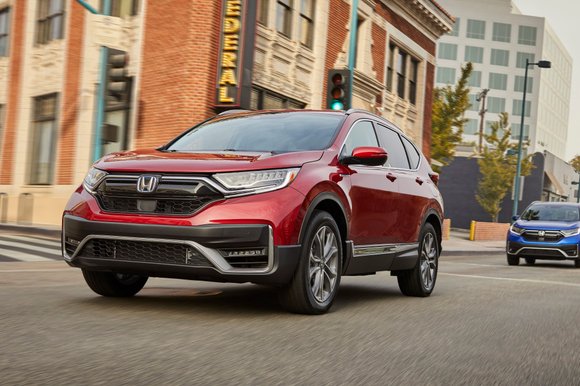 Where the CR-V Hybrid makes up some ground on those options is when it comes to pricing. The RAV4 Hybrid carries a starting price of $29,470, while the Escape Hybrid costs $29,450. Add all-wheel drive to the Escape Hybrid, and pricing goes up to $30,950.
Beyond the hybrid powertrain, which is similar to the one found in the Accord Hybrid, and standard all-wheel-drive system, the CR-V Hybrid isn't that different from the regular version. A blue Honda badge, unique fog lights, a hidden exhaust pipe, and a special bumper are included with the model. On the inside, the hybrid variant has a push-button shifter, a bespoke digital gauge cluster to show hybrid-oriented displays, and paddles on the steering wheel that help with deceleration.
The CR-V Hybrid will go on sale at the beginning of March.
Honda's stayed away from fully-electric cars, choosing to go with hybrids and fuel-cell vehicles. With the Japanese automaker being slow to introduce electrified models, the CR-V Hybrid is an important SUV for the brand, as it ensures it's not falling behind competitors and staying relevant in a rapidly electrifying industry.