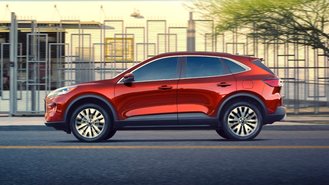 The all-new 2020 Ford Escape will be available in two fuel-efficient variants: a hybrid and a plug-in hybrid. While we're still waiting for Ford to release the plug-in hybrid Escape's figures, the automaker, and more importantly the EPA, has come out with fuel economy numbers for the Escape Hybrid and they lead the class.
Unlike a lot of other hybrid compact SUVs, Ford is offering the Escape Hybrid in both front-and all-wheel-drive models. The front-wheel-drive model has been rated by the EPA to get a combined rating of 41 mpg (44 mpg in the city and 37 mpg on the highway). Fuel economy with all-wheel drive drops down to 43/37/40 mpg (city/hwy/combined).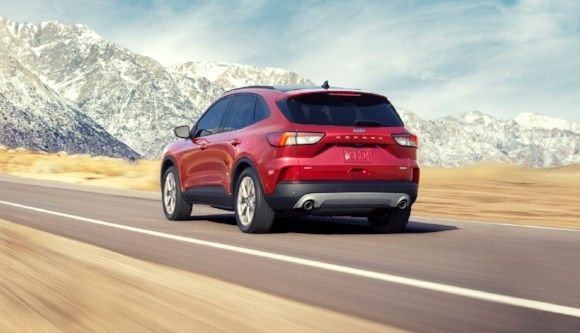 With front-wheel drive, the Escape Hybrid leads the compact segment for fuel economy. The Toyota RAV4 Hybrid, which is only available with all-wheel drive, is rated at up to 40 mpg combined. The only other compact SUV in the segment that gets close to the Escape Hybrid's fuel economy is the Nissan Rogue Hybrid with front-wheel drive that is rated at 34 mpg combined. If you're looking for the ultimate in fuel economy in an SUV body, you'll have to go down a size to the Kia Niro, which carries a rating of 50 mpg combined.
Pricing for the Escape Hybrid is comparable to the RAV4 Hybrid. The Escape Hybrid starts at $29,450 including destination, while the RAV4 Hybrid costs $29,160. Adding all-wheel drive, though, raises the price of the Escape Hybrid by $1,500, making an apples-to-apples comparison of the two a little more favorable for the RAV4 Hybrid. Pricing for the Rogue Hybrid starts at $28,645. The more efficient Niro is the cheapest option with a starting price tag of $24,545, though it belongs to a smaller segment.
With the Escape Hybrid being a leader in the segment, we're even more excited to see how the plug-in hybrid Escape compares to the competition.