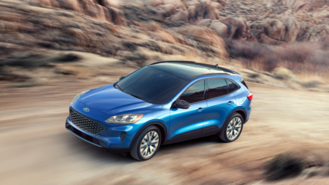 The Ford F-Series may be the American automaker's bread and butter, but look to its second best seller and it's the Escape. When the compact SUV debuted back in 2001, it competed in a small segment. Now, there are a dizzying amount of compact SUVs on the market and Ford wants to be prepared to ensure its popular model stays competitive with the all-new 2020 Escape.

Getting the high notes out of the way first, the Escape sits on a new platform that's wider, longer, and lower than before. The SUV's design is curvier, sleeker, and much more upscale than ever, too. Presumably in a move to keep up with competitors like the Toyota RAV4 and the Mazda CX-5 that have erred to either the rugged side of things or the more upscale segment. For what it's worth, the Escape looks like it's heading upstream.

Take a peek at the new Escape's cabin, and things are much nicer than before. The design of the dashboard mimics European vehicles, while available interior tech features include a 6-inch head-up display, an 8-inch touchscreen, a 12.3-inch digital instrument cluster, a 10-speaker Bang & Olufsen audio system, type A and type C USB chargers, and Wi-Fi hot spot for up to 10 devices.

Interior space has grown for the new Escape, too, as both rows of seating now offer more headroom, hip room, and shoulder room than before. Ford claims rear-seat legroom is best in class, while cargo space has increased by 3.5 cubic feet over the last model to a total of 37.5 cubic feet. Overall cargo space, though, is down compared to last year at 65.4 cubic feet.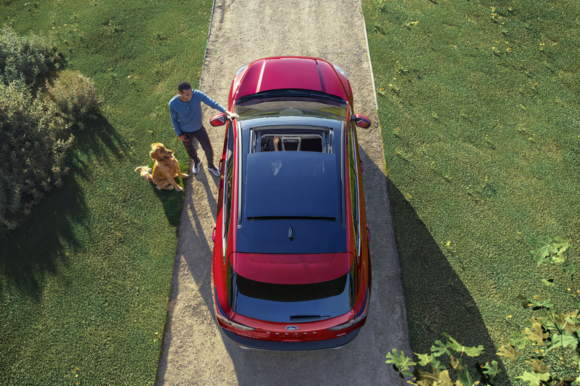 When it comes to powertrains, the majority of Escapes will be powered by a new turbocharged 1.5-liter three-cylinder that makes 180 horsepower and 177 pound-feet of torque. The inline-three has cylinder deactivation, which Ford claims is a first for North America, can operate on just two cylinders for improved fuel efficiency. The engine is paired with an eight-speed automatic transmission. A 2.0-liter EcoBoost four-cylinder is also available, with that engine making 250 hp and 275 lb-ft of torque. A high-tech all-wheel-drive system is available that has an axle disconnect function that improves fuel economy when traction isn't needed.

In the name of fuel efficiency, Ford will offer two hybrid variants of the Escape. Both come with a new 2.5-liter Atkinson cycle four-cylinder that's paired with a continuously variable transmission. Combined, the hybrid Escape will make 198 hp and be able to reach speeds of up to 85 mph on nothing but electricity. The second version is a plug-in hybrid that has an all-electric range of 30 miles. On a Level 2 charger, the plug-in Escape can get a full refill in 3.5 hours. Overall range is expected to be an impressive 550 miles.

Both hybrid models have four EV modes that give drivers the choice of driving around on electricity or gas. An all-new EV Charge mode allows the Escape to charge the batteries while the SUV is being driven.

This isn't the first time Ford has had an Escape Hybrid in its lineup. The automaker claims the 2004 Escape Hybrid was the first-ever hybrid SUV. At the time, hybrid technology was relatively new, yet Ford sold roughly 114,00 units of the vehicle. The plug-in hybrid Escape isn't new for Ford, either, as the automaker offers a plug-in hybrid model of the Fusion.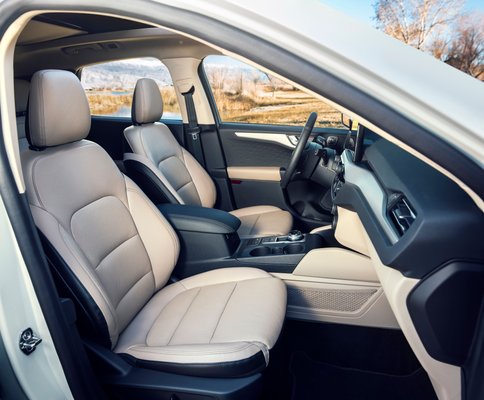 While the Escape will compete with the likes of the Nissan Rogue, Honda CR-V, Mazda CX-5, Kia Sportage, Subaru Forster, and Hyundai Tucson, the hybrid versions are part of a much smaller market. The Escape Hybrid and plug-in hybrid will compete against the Kia Niro PHEV and the Volvo XC60. While the Niro is smaller and the XC60 is larger, they're the only available plug-in hybrid SUVs on the market that are relatively close to the Escape.

All 2020 Escape models will come with Ford CoPilot360, which includes things like automatic emergency braking with pedestrian detection, blind spot information system with cross traffic alert, a lane keeping system, automatic high beams, and a rearview camera as standard.

The all-new Escape will go on sale later this fall, while the hybrid models will arrive early 2020. Pricing hasn't been announced, and will likely come out closer to when the SUV goes on sale.