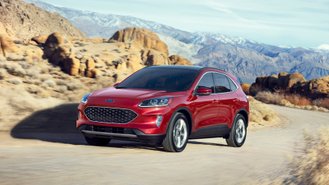 Ford redesigned its top-selling SUV for the 2020 model year, which saw the compact get a new exterior design, more interior space, and loads of new features. New powertrains have been added to the lineup, as well, boosting the Escape's fuel economy. The changes have made the Escape one of the more efficient options in the segment.

New for 2020 is a turbocharged 1.5-liter three-cylinder that produces 180 horsepower and 177 pound-feet of torque. The engine is paired with a new eight-speed automatic. While the engine's size might sound modest, its output is competitive for the compact class. But the real juicy part of the new powertrain is its fuel economy. The EPA's official numbers are 27 mpg in the city, 33 mpg on the highway, and 30 mpg combined.

Those figures are drastic increases over last year's model, which, in its most efficient layout, was capable of getting up to 23/30/26 mpg (city/hwy/combined). The EPA hasn't released fuel economy figures for the optional turbocharged 2.0-liter engine or the hybrid variant yet. While the 2.0-liter motor is carried over from last year, it's attached to the new eight-speed automatic and is only available with all-wheel drive. Last year, that configuration was rated to get 23 mpg combined.

The 30 mpg combined figure of the new Escape puts it at the top of the class for non-hybrid and non-diesel compact SUVs. Both the Toyota RAV4 and the Honda CR-V are rated to get up to 30 mpg combined. Other options, like the Nissan Rogue, Subaru Forester, Chevrolet Equinox, and Mazda CX-5 fall just shy of the 30 mpg combined mark.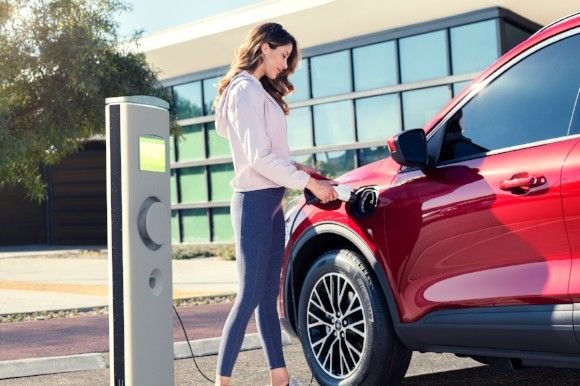 With fuel economy figures this good from the base engine, we're excited to see what kind of numbers the Escape Hybrid can conjure up. The Escape Hybrid is powered by a 2.5-liter four-cylinder that's attached to two electric motors and continuously variable automatic transmission. The regular hybrid will make use of a 1.1 kWh battery pack, while the plug-in hybrid version gets a larger 14.4 kWh pack. Combined output for the standard hybrid is 198 hp, while the plug-in is a little more powerful with 209 hp on tap.

Fuel economy will be a major thing for the Escape Hybrid, as it will have a decent amount of competition. The RAV4 Hybrid gets 40 mpg combined and the Rogue Hybrid is rated at 34 mpg combined. Honda's coming out with a CR-V Hybrid in the near future, but that doesn't have official EPA figures yet, either.