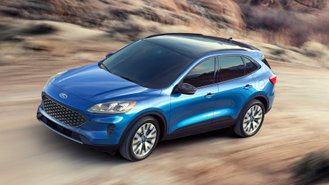 The all-new Ford Escape ushers in a host of changes for the popular compact SUV, but the most prominent addition is a new plug-in hybrid powertrain. Plug-in hybrid SUVs have become popular recently and Ford's new option is gunning straight for the top of the heap with best-in-class fuel economy and an impressive all-electric range.
Ford recently announced that the Escape Plug-In Hybrid will have an all-electric fuel economy rating of 100 MPGe and an EPA-estimated electric driving range of 37 miles. The SUV is fitted with a 14.4-kWh lithium-ion battery pack. These are impressive figures for the compact SUV segment and line up very well against the Toyota RAV4 Prime – the Escape Plug-In Hybrid's main rival. Toyota's option has a 94 MPGe rating, can travel up to 39 miles on electricity, and comes with a 17.8-kWh battery pack. It's important to note that the EPA hasn't released its official figures for either vehicle yet.
Another key area where the Escape Plug-In Hybrid will have an advantage over the RAV4 Prime is when it comes to pricing. An early order guide revealed that the compact SUV will start at $34,235 (including destination). That makes it roughly $8,105 more than the standard Escape and approximately $4,725 more than the Escape Hybrid. Compared to the RAV4 Prime, the Escape Plug-In Hybrid will be $4,895 more affordable, as Toyota has priced its SUV at $39,220.
A $5,000 difference between the Escape Hybrid and Escape Plug-In Hybrid seems like a big difference on paper, but that's before you take the federal tax credit and any local incentives into account. Because of the size of the Escape Plug-In Hybrid's battery pack, it should be eligible for the full $7,500 tax credit. If you're eligible for the full amount federal tax credit amount and any local incentives that may be available in your area, the Escape Plug-In Hybrid could actually be much cheaper than the hybrid model and a better deal for the majority of consumers.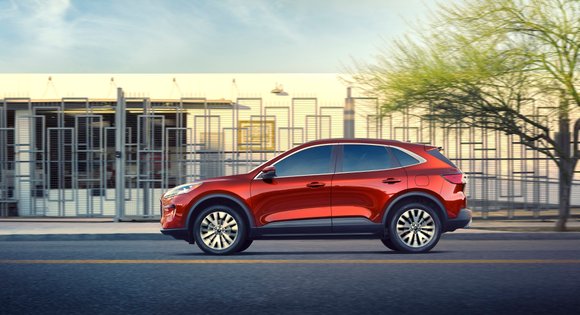 When it comes to performance, the RAV4 Prime is expected to offer more punch than the Escape Plug-In Hybrid, though Ford hasn't released official figures for its compact SUV yet. Autoblog claims the Escape's 2.5-liter four-cylinder engine and electric motor will be rated at 200 horsepower. Front-wheel drive is standard on Ford's SUV, too. The RAV4 Prime's powertrain is good for 302 hp and comes with all-wheel drive. Based on the horsepower figure and powertrain, it looks like Ford designed the Escape Plug-In Hybrid to be efficient, while Toyota focused on performance.
If you're looking for an affordable SUV with a plug-in hybrid powertrain, you have a few options to choose from, though a couple belong to the subcompact segment. There's the Mitsubishi Outlander PHEV ($36,295), Subaru Crosstrek Hybrid ($35,145), and Kia Niro Plug-In Hybrid ($29,490). Besides the Niro Plug-In Hybrid, the Escape Plug-In Hybrid remains one of the more affordable options. It also has one of the longest all-electric ranges, as the Outlander PHEV (22 miles), Crosstrek Hybrid (17 miles), and Niro Plug-In Hybrid (26 mpg) can't travel nearly as far. Neither of those options can match the Escape Plug-In Hybrid's MPGe figure either, though the Niro Plug-In Hybrid (105 MPGe) gets close.
If Ford follows through with the Escape Plug-In Hybrid's figures, the compact SUV will be a heck of a good deal – and not just for the class. It will even compete with plug-in hybrid sedans like the Ford Fusion Energi, Honda Clarity Plug-In Hybrid, and Kia Optima PHEV when it comes to value.
While Ford didn't officially state when the Escape Plug-In Hybrid would go on sale, we expect the SUV to arrive at dealerships before the end of the year. When it goes on sale, the plug-in hybrid powertrain will be available in every Escape trim except the S and SE Sport.