As we reported yesterday, the new Ford Explorer ST is stacking up to be a much more expensive proposition compared to the Explorer Sport it replaces. However, a handful of performance options will likely appeal to enthusiasts looking for the sportiest of the sporty.
The most noteworthy options for the $55,835 Explorer ST are the Street and Track Packs. The Street Pack ($995) starts with dark 21-inch aluminum wheels, an upgrade from the standard 20-inch machined aluminum design. You also get performance brakes and red-painted brake calipers.
The Track Pack ($1,595) is nearly identical but comes with higher performance brakes. Interestingly, Ford's order guide notes that the high-performance brakes must be shipped separately for dealer installation. Apparently they're that high-performance.
Perhaps it's most likely that the brakes are sensitive and/or require special calibration.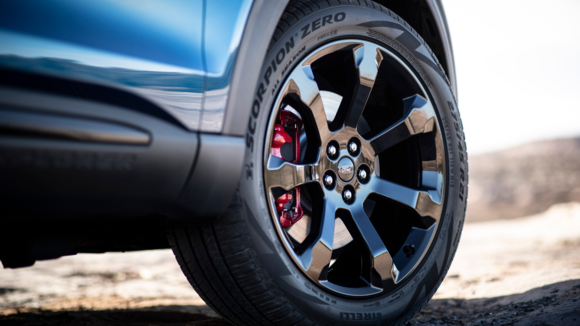 The next most notable option for the ST is the Premium Technology Package ($995). It gets you a 10.1-inch infotainment system, a 14-speaker Bang & Olufsen sound system and multicontour front seats. We think it's likely most STs will come with this option.
At $55,835, a stock Explorer ST is set to be $12,385 more expensive than the smaller Edge ST. That's a fairly big step up in price. Equipped with the Track Pack and Premium Technology Package, the Explorer ST will reach $58,425.
On paper, that's just a little less than $1,500 shy of a 2019 Jaguar F-PACE 30t R-Sport ($59,895). However, it's important to note that's without any options, whereas for a similar amount of money, the ST comes fully loaded and ready for track day.
Learn more about the 2020 Explorer
Editor's Note: An earlier version of this article incorrectly stated the MSRP of the Track Pack as $1,995. This has been corrected.