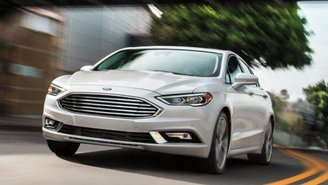 Nearly a decade ago, Ford introduced a new safety technology – inflatable safety belts. Since then, the tech has proliferated throughout the Ford and Lincoln lineup, protecting both front- and rear-seat passengers. Ford did offer the inflatable safety belt tech for the rear seats in the Ford Fusion; however, that's changing for the 2020 model year, which may no longer be the Fusion's last hoorah as previously indicated by the company.
According to the order guide for the 2020 Fusion Titanium, one of the model's highest trims, will no longer offer inflatable rear safety belts. Previously, Ford offered the technology as a standard feature on the Titanium trim while making it an option on other trims. However, the inflatable seat belts won't even be available as an option for the 2020 model year. Instead, the company will offer standardized seat belt pretensioners across all trims of the 2020 Ford Fusion. Ford still offers inflatable safety belts on models like the Flex and F-150.
What's interesting about the move is the Fusion Titanium isn't decreasing in price even though it has one less piece of desirable safety technology. The price actually increases for 2020 by $110 to $34,450 plus the $995 destination charge, as confirmed by a Ford spokesperson. However, it shouldn't come as a surprise. Ford has been adamant that sedans like the Fusion aren't making the Dearborn automaker huge profits like the F-150 or the rest of the Ford's SUV and crossover lineup. Ford vowed to abandon producing sedans, including the Fusion, by 2020. However, Ford is hinting the model could stick around for a few more years.
If Ford plans to keep the Fusion as an entry-level offering for customers, then cutting production costs to increase profit would be vital to the model's future and its success. Removing costly safety technology could not only save money but relegate the feature to models where Ford makes a much higher profit, using the inflatable safety belts to entice customers to spend more money.
Then again, if you're going to have to spend more money for inflatable rear seat belts, Mercedes offers them, too.