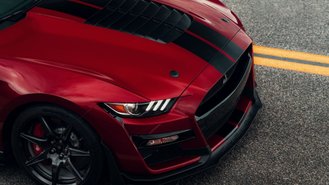 After months of speculation and more than a few hints from Ford, the Dearborn automaker has revealed the power figures for the 2020 Ford Mustang Shelby GT500, and they're stupendous. According to Ford, the 2020 GT500, the first for the current-generation Mustang, will make 760 horsepower and 625 pound-feet of torque from its supercharged 5.2-liter V8 engine.
This is the most powerful street-legal Mustang ever, giving the current generation its top-tier point. Ford started with the GT350's flat-plane crank V8 before adding a supercharger and replacing the flat-plane crankshaft. The performance numbers put it in the same league as the Chevrolet Corvette ZR1, Dodge Challenger Hellcat Redeye, and Chevrolet Camaro ZL1, far exceeding the horsepower of the two Chevrolets while falling short on torque. It's even more powerful than the Ford GT, Ford's 657-horsepower, Le Mans-winning, mid-engine supercar. However, the GT is much lighter than the GT500.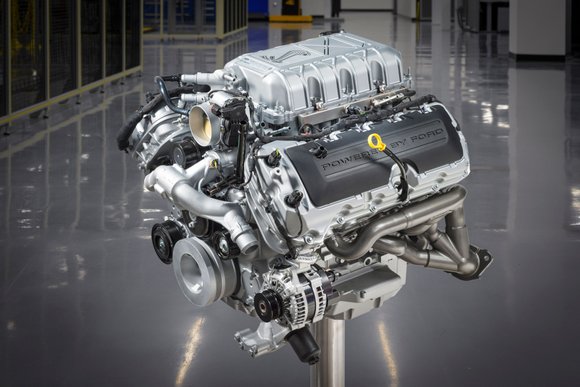 The GT500 is a far more powerful beast than the GT350 and GT350R, which uses a naturally aspirated version of the 5.2-liter V8. The GT350 makes a modest though still potent 526 hp. Everything about the GT500 is about excess. There's an aggressive Carbon Fiber Track Package that adds carbon fiber wheels, a fixed rear wing, and Recaro Seats, with the rear wing making 500 pounds of downforce at 180 miles per hour, the GT500's electronically limited top speed. Ford didn't release any other performance specs, so it's unclear how fast the new Mustang is to 60 mph.
Ever since Ford resurrected the GT500 nameplate over a decade ago, the top-tier Mustang has suffered from lackluster handling. Some blamed the massive V8 engine at the front while others pointed to the solid rear axle. Ford has fixed both those problems, taking the 5.2-liter V8 from the already nimble GT350, improving the suspension, and making the GT500 as capable as ever. This could be the Shelby GT500 fans have always imagined.
Learn more about the Mustang »