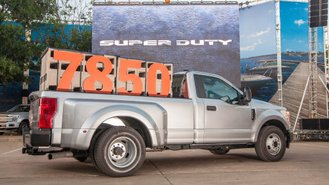 Horsepower, torque, and towing capacity, these are the three areas automakers look to one-up one another in the heavy-duty pickup truck segment. It's been an all-out war between Ford, Chevrolet, and Ram in these three categories, as it's a never-ending battle to be the top dog. In the recent quest to be number one, Ford has updated its Super Duty models for 2020 and the trucks are touting best-in-class towing figures of up to 37,000 pounds.

That 37,000-pound towing capacity is for the new F-450 with a gooseneck hitch – one that has a ball mount that's either welded or mounted on a rail in your truck's bed. Maximum fifth-wheel towing, which sees a trailer's king pin be connected to a lock jaw in a truck's bed, is rated at up to 32,500 pounds. Conventional towing is rated at 24,200 pounds, which will still be more than enough for the majority of owners. All three numbers are best-in-class, claims Ford.

The new Super Duty's figures are better than what Chevrolet and Ram's heavy-duty options can handle. The Silverado HD is rated at up to 35,500 pounds, while the Ram 3500 can tow up to 35,100 pounds. Both figures are with gooseneck hitches.

Payload capacity, surprise, surprise, is best-in-class, as well. When properly equipped, the Super Duty can haul 7,850 pounds. That figure bests Chevrolet and Ram, too, as their respective options can carry 7,442 pounds and 7,680 pounds, respectively.

Ford's even thought of consumers that want to tow off-road with the Tremor Off-Road Package. When that box is ticked, the Super Duty can tow up to 21,900 pounds with a gooseneck hitch or 15,000 pounds with a conventional hitch and carry 4,210 pounds in the bed on roads other than tarmac.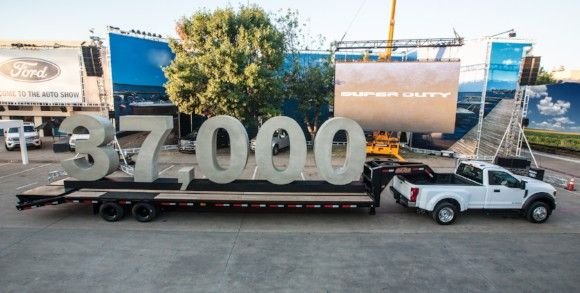 There are three engines for the 2020 Super Duty. A 6.2-liter V8 that puts out 385 horsepower and 430 pound-feet of torque remains the standard motor. The next step up is a new motor for 2020 and is a 7.3-liter V8. The gargantuan V8 churns out 430 hp and 475 lb-ft of torque. The range-topping option is a 6.7-liter Power Stroke turbodiesel V8 that makes more power than before. The diesel engine is rated at 475 hp and 1,050 lb-ft of torque. If you needed to ask, both the 6.7-liter diesel and 7.3-liter V8 have best-in-class power figures.

Compared to Chevy and Ram's diesel powertrains, the Super Duty's is a monster. The Duramax 6.6-liter turbodiesel V8 in the Silverado HD makes 445 hp and 910 lb-ft of torque. Ram's optional 6.7-liter turbodiesel inline-six is good for 400 hp and 1,000 lb-ft of torque.

The new champ of the heavy-duty truck segment is expected to arrive in dealerships before the end of the year.