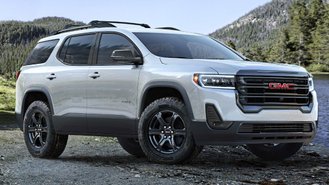 In a bid to make its vehicles have a more rugged look and more off-roading capabilities, GMC has introduced AT4 trims on a few of its vehicles. There's the GMC Sierra AT4, Sierra AT4 Heavy Duty, and, the most recent addition to the AT4 family, the Acadia AT4. According to data from order guides, the new Acadia AT4 will start at $42,495 including destination.
Just like with other GMC models that have AT4 trims, the Acadia's nestles in underneath the luxurious Denali. In the lineup, the AT4 trim costs $500 more than an SLT trim with all-wheel drive ($41,995) and is $7,000 less than a Denali with four-wheel drive that starts at $49,495.
For the extra money, the AT4 acts as a rugged appearance package. The trim adds a black chrome-accented grille, all-terrain tires, and special 17-inch wheels. Seeing as how all-terrain tires can run more than $500, the package is well priced for consumers wanting a sturdier design to go with their luxurious Acadia. Power comes from a 310-horsepower V6, which is the more powerful motor in the lineup, with all-wheel drive coming as standard.

The Acadia AT4 doesn't really have a lot of competition. The regular Acadia competes in a crowded segment against SUVs like the Mazda CX-9, Nissan Pathfinder, Chevrolet Traverse, and Ford Explorer. But those don't have optional packages that bump up the ruggedness factor. So, that leaves the Acadia AT4 to compete with other burly SUVs that either come with all-wheel drive as standard or can be equipped with the feature like the Subaru Ascent ($33,005), Toyota 4Runner ($38,495), Kia Telluride ($34,785) and Honda Passport ($34,985).