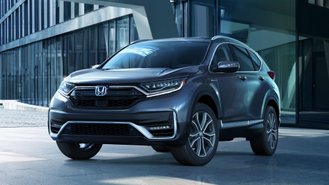 The 2020 Honda CR-V Hybrid has been put through the Insurance Institute for Highway Safety's (IIHS) tests and the SUV did well enough to earn the organization's Top Safety Pick rating. With the award, the CR-V Hybrid joins four other Hondas, including the regular CR-V line, to earn one of the institute's awards.
To be named a Top Safety Pick, a vehicle must earn a rating of Good in all six crash tests, have a vehicle-to-vehicle and vehicle-to-pedestrian system that earns at least a rating of Advanced, and have standard headlights that earn at least an Acceptable rating. With the safety rating, the CR-V Hybrid joins the CR-V, Accord, Insight, and Civic as Honda models that have all earned one of the IIHS' awards.
Confusingly, the CR-V Hybrid missed out on the Top Safety Pick+ designation because of the regular CR-V lineup. On its own, the CR-V Hybrid met all of the requirements to receive the IIHS' highest safety award, but, according to Joe Yong, Director of Media Relations for the IIHS, the institute groups hybrids underneath the same umbrella as regular models if they're not significantly different in architecture or weight. While hybrids don't meet that criterion, the majority of plug-in hybrids do.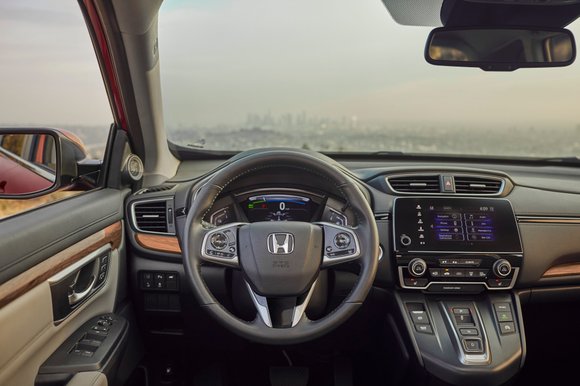 So, while the CR-V Hybrid has good enough scores to be named a Top Safety Pick+, it's being held back by the regular CR-V. The non-hybrid CR-V has standard headlights that were rated to be Marginal, which is below the required Acceptable rating for the "+" designation. Therefore, a Top Safety Pick rating is the best the CR-V and the CR-V Hybrid can get.
When Honda introduced the all-new CR-V back in 2017, the SUV earned the institute's highest award of being named a Top Safety Pick+. The only difference in the IIHS' testing since 2017 is that it changed the necessary requirements for headlights. It may seem like a slight difference, but it reveals how different stipulations require automakers to make changes if they want to get the highest award from the IIHS. It also shows just how hard it's becoming for brands to snag a Top Safety Pick+ award.
For 2020, all CR-V models, including the CR-V Hybrid, now come with Honda Sensing as standard equipment. The suite includes forward-collision warning, pedestrian detection, automatic emergency braking, lane departure warning, lane keep assist, adaptive cruise control, and road departure mitigation.
Other hybrid compact SUVs that have earned the IIHS' Top Safety Pick award include the Ford Escape Hybrid and the Toyota RAV4 Hybrid.