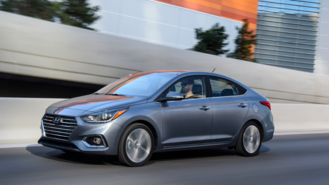 Whenever an automaker refreshes or thoroughly updates a model, it often strives to improve fuel economy. Rarely does an automaker make substantial gains in fuel economy often returning incremental gains over time. However, Hyundai has somehow found a way to significantly boost the fuel economy of its 2020 Accent subcompact car, which can return up to 33 mpg city, 41 mpg highway, and 36 mpg combined. That's a fast improvement over the 2019 Accent that could return up to 28 mpg city, 38 mpg highway, and 32 mpg combined.
The big jump is likely attributable to Hyundai offering a continuously variable transmission in the Accent. The variable gear gives the subcompact Hyundai a plethora of gear ratios that help the engine balance efficiency with power. Another factor could be the revised 1.6-liter four-cylinder Gamma II engine that has found its way under the Accent's hood. It's the engine set to power the Accent-based Venue subcompact crossover.
The CVT puts the Hyundai far ahead of its subcompact competitors when it comes to fuel economy. The Chevrolet Sonic returns 26 mpg city, 34 mpg highway, and 29 mpg combined while the Ford Fiesta returns 27 mpg city, 37 mpg highway, and 31 mpg combined. Those are decent numbers, but Hyundai's gains could be enough to consider the 2020 Accent if fuel economy and efficiency are must-have features for new-car buyers.
While Hyundai has yet to announce pricing, it should be similar to the 2019 model's, which falls toward the higher end of the segment. However, Hyundai does sell itself as more luxurious than its competitors, too.
Customers should expect the 2020 Hyundai Accent to sport the same design that debuted on the redesigned 2019 model. However, the style will be slightly refreshed. The 2020 Accent will feature a wider-looking dash, spacious passenger room, and either five- or seven-inch touchscreen displays. The Accent combines Hyundai's near-luxury aesthetics with affordability and efficiency.
Learn more about the upcoming Accent »
Pictured: 2019 Accent