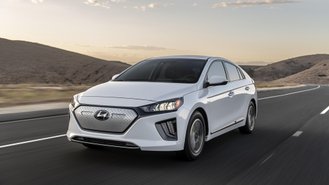 Hyundai is increasing the price of the 2020 Ioniq Electric by $2,755 to an even $34,000 including destination. Before the end of 2019, we heard that Hyundai would be increasing the Ioniq Electric's range to 170 miles (an increase of 46 miles of range) and power to 134 horsepower – up from 118 hp. In addition to the increases in performance, Hyundai has also given the vehicle a refresh with subtle exterior changes and more features.
Coinciding with the extra range that comes from a larger battery pack – 38.3 kWh compared to 28 kWh – the Ioniq Electric receives an upgraded onboard charger. Charging speeds have increased from 6.6 kW to 7.2 kW, which should result in quicker charge times, though Hyundai didn't provide any official figure on what times consumers could expect to see. Still, a 100-kW DC fast charger will allow the battery to get 80% of its charge in 54 minutes. If you don't want to wait that long to charge the vehicle, there's a new Eco+ that will help drivers reduce the amount of energy the vehicle's consuming.
Other more notable additions include more active safety features. Lane keep assist, adaptive cruise control, and automatic high beams are now standard. Jumping up to the Limited trim brings more goodies, like a Harman Kardon audio system, ambient lighting, and blind spot monitoring. The models also get larger touchscreens – an 8-inch unit for the SE and an available 10.25-inch option for the Limited.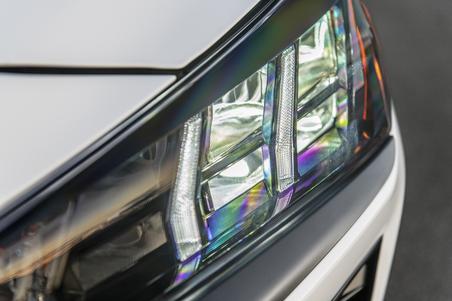 Changes have been made to the outside, but you'll have to look really hard or be a massive fan of the Ioniq Electric to spot them. The closed grille has a new pattern, Hyundai added LED exterior lights, the front and rear fascias have been updated, and new wheel designs have been added. The interior gets a new LCD screen, dark chrome trim, an updated upper and lower instrument panel, as well as a new cover for the upper console. The changes on the inside are much easier to spot and help liven things up.
While the Ioniq Electric's price has gone up by quite a lot, the vehicle received quite a lot of changes. Pricing for the Ioniq Electric SE starts at $34,000, while the Limited costs $39,570, an increase of $1,825. It's important to keep in mind that Hyundai's electrified vehicles are still eligible for the full $7,500 federal tax credit.
Range for the Ioniq Electric still lags behind a lot of the competition, the majority of EVs on the market have a range of at least 226 miles. But 170 miles puts the Ioniq Electric above the base Nissan Leaf, which has a range of 150 miles. The Leaf, though, is cheaper than the Hyundai with a starting price of $32,525.