Hyundai has jumped into the crossover market with gusto, finally launching a true three-row crossover called the Palisade. It replaces the fickle three-row Santa Fe XL, a holdover until Hyundai could prep the Palisade. The EPA has rated the Palisade's fuel economy, which returns 19 mpg city, 26 mpg highway, and 22 mpg combined. That's respectable for a two-ton-plus family hauler though not uncommon.
Take the Palisade and compare it to the Volkswagen Atlas, another newly-launched three-row crossover. The Atlas V6 returns 17 mpg city, 24 mpg highway, and 19 mpg combined. Both use an 8-speed automatic, with the VW housing a 3.6-liter V6 under the hood while the Hyundai has a 3.8-liter unit. Differences lie in their engine technologies.
Hyundai runs its 3.8-liter V6 on the Atkinson Cycle as opposed to the Otto Cycle. The two use different engine thermodynamics. Atkinson cycle engines are often used in hybrid vehicles because Atkinson Cycle engines often sacrifice power for efficiency. However, it appears Hyundai has overcome that problem. Its Atkinson Cycle 3.8-liter engine produces 291 horsepower and 262 pound-feet of torque compared to the Atlas' 276 horsepower and 266 pound-feet of torque.
Oddly, though, the Hyundai Palisade returns a worse fuel-economy rating compared to its stablemate, the Kia Telluride, even though the two are nearly identical. The EPA rates the Telluride at 20 mpg city, 26 mpg highway, and 23 mpg combined. The difference in fuel economy is strange when you take a closer look.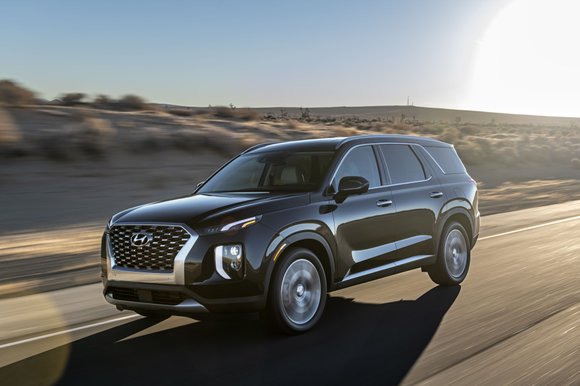 Both use the same 3.8-liter V6 paired with the same eight-speed automatic gearbox. Front-wheel drive is standard while all-wheel drive is optional. Both can tow up to 5,000 pounds. Both feature the same 114.2-inch wheelbase though the Telluride is 0.8 inches longer and 0.5 wider than the Palisade.
The Telluride also as 0.7 inches more third-row headroom and three more cubic feet of carbon space behind the third row. One possible explanation for the difference could be the fact Hyundai packs more features and tech into the Palisade, giving it a higher curb weight which would account for the fuel economy difference.
The 2020 Hyundai Palisade goes on sale this summer; however, Hyundai has yet to release pricing information. For comparison, the Telluride starts at $32,735 so expect the Hyundai to have a price premium over that.
Learn more about the Palisade »
Editor's Note: An earlier version of this article incorrectly stated that the Palisade and Telluride feature a 3.6-liter V6. In fact, both have a 3.8-liter V6. We've updated the text accordingly.