With its sleek lines, curvaceous roofline, and shapely silhouette, the 2020 Hyundai Sonata is a gorgeous sedan, especially for a mainstream automaker. Clearly, the eight-generation Sonata is a sign that a few automakers are still sticking to sedans. Not only that, but the ones that are sticking around are going all out. On the face of things, it's easy to see that Hyundai spent a lot of time trying to keep consumers interested in sedans.
There's a lot more that's new for the Sonata than just it's looks, but we'll stick with the design for a little longer. The 2020 model is the brand's first sedan to feature Hyundai's Sensuous Sportiness language that almost mimics the same overall design from Aston Martin. Comparing a British luxury brand that's known for penning some of the prettiest grand tourers to Hyundai may sound sacrilegious, but it's true. The Sonata's lines look so good partly because the midsize sedan is roughly an inch lower and two inches longer than before.

The handsome design carries to the interior where the Sonata rivals high-end brands in the looks department. There's a bunch of technology on the inside, too, as the sedan can be fitted with a 12.3-inch digital instrument cluster, a 10.25-inch touchscreen with split-screen functionality, a head-up display, and a 12-speaker Bose audio system.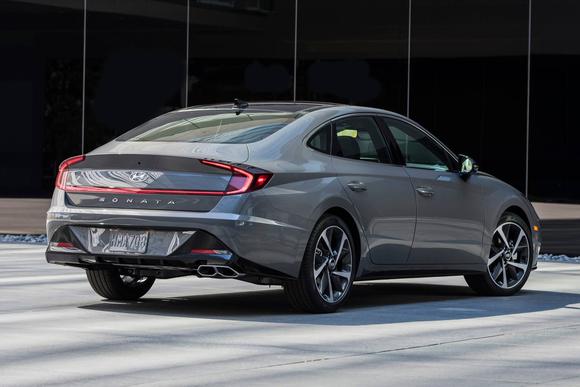 While the interior tech now rivals German brands in terms of size, the quality of the features is there, too, as nappa leather, satin chrome, a massive panoramic sunroof, stylish metal switchgear, and a wireless charging pad that fans cooling air over a smartphone when in use are available.
Hyundai's Digital Key is also included with the 2020 Sonata, which allows owners to control various functions from their smartphone. The sedan can be turned on and off, as well as locked and unlocked from a phone. The piece of technology can also be shared with friends and family, granting them the same amount of control of the vehicle and it will even remember specific settings for different drivers.

Also impressive is the Sonata's extensive list of driver-assistance features thanks to the sedan's three radar sensors, five cameras, and 12 ultrasonic sensors. The Sonata comes with forward collision-avoidance assist, lane keeping assist, advanced smart cruise control with stop and go, remote smart parking assist, reverse parking collision-avoidance assist, a surround-view monitor, blind spot collision warning and monitoring, lane following assist, and safe exit assist. It's truly an exhaustive list of features. Hyundai didn't specify if all of those features are standard, but does claim that highway driving assist, which sounds like a semi-autonomous system, is an option.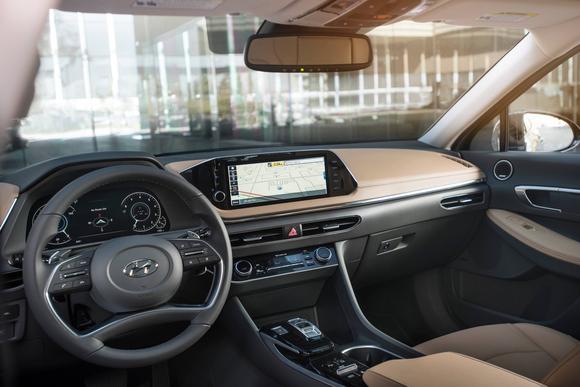 Underneath the body sits Hyundai's third-gen vehicle platform that utilizes more high-strength steel to go on a little diet. The brand claims that curb weight is down, which should equate to a sportier driving experience. As far as power goes, the Sonata will lack the grunt that competitors offer at launch. The turbocharged 1.6-liter that makes 178 horsepower carries over from last year.
There's a new 2.5-liter four-cylinder that's rated at 191 hp and 181 lb-ft of torque. Both engines are paired with an eight-speed automatic transmission. While the Sonata lacks oomph, the sedan is expected to get up to 33 mpg combined with the 2.5-liter engine. So fuel economy is taking precedent at the time of launch.

Hyundai hasn't released all of the new Sonata's specs, but it's clearly an all-new model that's better than ever. With more tech, a classier design, and fuel economy that's projected to be better, it raises the bar for the Sonata nameplate. The previous model wasn't a bad vehicle at all, but the new Sonata is shaping up to be even better.