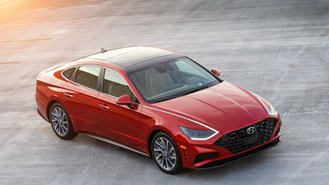 Hyundai is one of the few brands to still focus on making handsome sedans and that's apparent with the all-new 2020 Sonata. Despite the prettier design, the addition of a new four-cylinder engine, and a plethora of new technology, pricing hasn't gone up by too much. Pricing for the base Sonata costs $24,330 including destination. That's an increase of $750 from last year, as the 2019 model started at $23,580.
When you look at how different the 2020 model year's styling is and all of the new stuff that comes with the sedan, an extra $750 sounds like a bargain. The base SE trim comes with more goodies than before, which include a more powerful engine (191 horsepower compared to 185), a new eight-speed automatic that has two more gears than last year's model, and better fuel economy (32 mpg combined versus 29 mpg combined.
Feature wise, the base Sonata comes with an 8-inch display, which is an inch larger than before, forward collision warning, automatic emergency braking, lane keep assist, lane departure warning, high beam assist, and adaptive cruise control. Clearly, Hyundai's made safety a priority with the new Sonata, as it's packed with a lot more driver-assist features.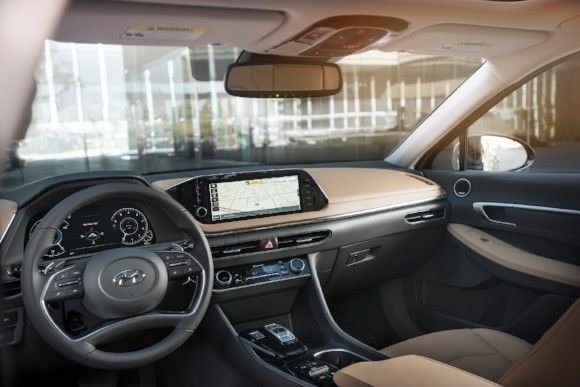 Hyundai will offer the Sonata in four trims for the moment: SE, SEL, SEL Plus, and Limited. The range-topping Limited trim is priced at $34,230. The SEL Plus and Limited trims get the new 1.6-liter turbocharged four-cylinder and can be fitted with even more tech. Features on the two high-end trims include a 12.3-inch instrument cluster, wireless charging, a 12-speaker Bose audio system, a 10.25-inch display, and Hyundai Digital Key, which lets owners control a few of the vehicle's functions through their smartphone.
Compared to its two main competitors, the Honda Accord and the Toyota Camry, the Sonata is the cheapest option. The Accord starts at $24,800, while the Camry is more expensive with a starting price tag of $25,250. In addition to being the cheapest option, the Sonata is also the prettiest of the bunch, too.
Surprisingly, Hyundai's announcement for pricing didn't include anything on the Sonata N Line. Previous reports claimed that the sedan was in line for a performance trim with approximately 275 horsepower on tap. The vehicle is expected to come with performance and exterior enhancements on top of the regular model. Think of the Sonata N Line as a rival to the Accord Sport or the Camry TRD. Still, we don't have a lot of information on the N Line trim.
Base Sonata trims will be available at dealers by the end of this month, while higher trims will be available for purchase within the next few months. Hopefully, we'll get some more information on the performance-forward N Line by then.