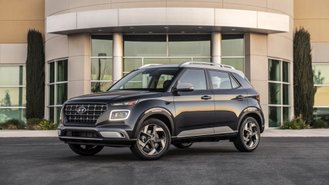 Hyundai's got the large, eight-passenger SUV part of its lineup sorted out with the Palisade, but the South Korean brand is still working on its small utility vehicles. The all-new 2020 Hyundai Venue will solve the automaker's dilemma, slotting in below the Kona. In addition to being the smallest utility vehicle, the Venue is going to be Hyundai's most efficient.

The EPA has come out with its official fuel economy figures for the Venue and the subcompact SUV is rated at up to 30 mpg in the city, 34 mpg on the highway, and 32 mpg combined. The Venue may be tiny, but it's also powered by a small 1.6-liter inline-four, which helps it be efficient.

Compared to the Kona, the Venue is only slightly more efficient. Both of the Kona's powertrains are rated at up to 30 mpg combined, though, depending on powertrain, you're looking at up to 28 mpg city and 33 mpg highway. Despite measuring in at 5.1 inches shorter in length and half an inch narrower than the Kona, the Venue only gets 2 mpg better in combined driving.

The Nissan Kicks is still the king of fuel economy in the subcompact segment, as it can get up to 33 mpg combined. The Venue, Kona, Honda HR-V, and Subaru Crosstrek are all tied for second, as they can get up to 30 mpg combined. The Toyota C-HR (29 mpg combined), Ford EcoSport (28 mpg combined), Buick Encore (28 mpg combined), Chevrolet Trax (28 mpg combined), and Nissan Rogue Sport (28 mpg combined) lag behind.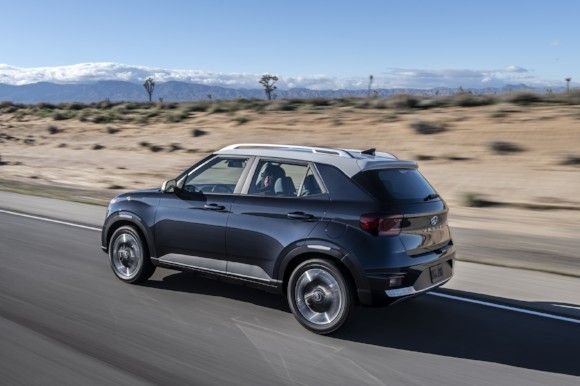 In addition to being fuel-efficient, the Venue is going to be a funky, tiny SUV for urbanites. The Kona's already small and efficient, but the Venue is smaller and even more efficient. While other subcompact SUVs are curvy, Hyundai's gone with a more rugged, boxy look with the Venue and has an extensive pallet of eight exterior colors for consumers to choose from. There's also a two-tone roof option for extra funkiness.

The Venue will still be packed with a lengthy list of features, like an 8-inch touchscreen, Android Auto, Apple CarPlay, Bluetooth, two USB ports, and Hyundai's Blue Link system. A host of driver-assist features, including lane-keeping assist, forward collision-avoidance assist, a driver attention warning system, rear cross-traffic alert, and blind spot monitoring.

Hyundai hasn't announced pricing for the Venue yet, but we're expecting it to come in under $20,000.