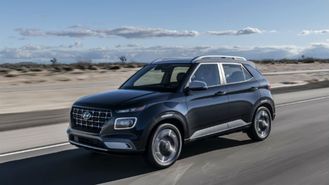 Hyundai currently has four SUVs (not counting the Kona Electric) in its lineup, but the South Korean brand is looking to bolster that number with two new vehicles. While the Palisade, which is coming out this summer, will immediately head to the top as the brand's largest, and most luxurious option, Hyundai is also looking downstream to add a smaller SUV to its roster. Cue the music, because the 2020 Hyundai Venue is here.
Despite having an odd name, the Venue is a modern crossover, through and through. The boxy little crossover, which looks awfully similar to the Volvo XC40, will fit in below the subcompact Kona. Compared to Hyundai's smallest SUV at the moment, the new Venue is 5.1 inches shorter and half an inch narrower. In fact, if you compare the Venue's size to anything in Hyundai lineup, it lines up with the Accent more than anything else. Competitors, then, will include the Kia Soul, Nissan Kicks, and Ford EcoSport.

The Venue will only be offered with one engine, at least for the moment. Power comes from a 1.6-liter inline-four that's paired to either a six-speed manual or a continuously variable transmission (CVT), that Hyundai calls a Smartstream IVT. While official power specs haven't been confirmed yet, the automaker is expecting the Venue to get up to 33 mpg combined.

In typical Hyundai fashion, the Venue is packed with all sorts of tech goodies. Equipment includes an 8-inch touchscreen, Apple CarPlay, Android Auto, Bluetooth, Hyundai's Blue Link system, and dual charging USB ports. On the safety front, the base Venue features lane-keeping assist, a driver attention warning, and forward collision-avoidance assist, include blind spot monitoring and rear cross-traffic alert.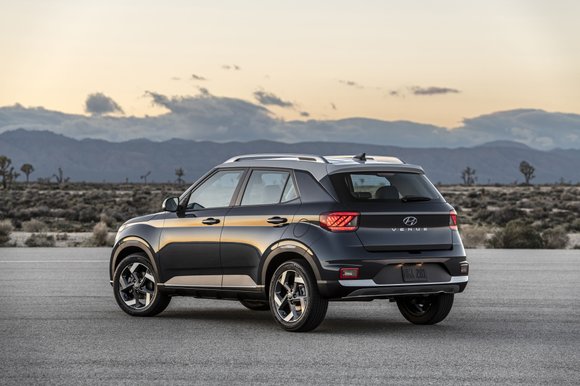 Hyundai isn't exactly rewriting the book on subcompact crossovers, but simply adding another option to its lineup. That doesn't mean the vehicle is another boring option. It's quite the opposite. The Venue's funky design can further be accented by eight colors, some of which sound trendy, and a two-tone roof option. It sounds like Hyundai's thought through the Venue's size, too, as the crossover has a dual level cargo floor for taller cargo.

Pricing hasn't been announced, but the Kona starts at $21,035 (including destination). With a smaller footprint, we'd expect the Venue to be more affordable. If Hyundai were to get the Venue under $20,000 with destination, it would be one of the more affordable crossovers on the market, and with the unique exterior design and a lengthy list of features, we could see it doing extremely well.