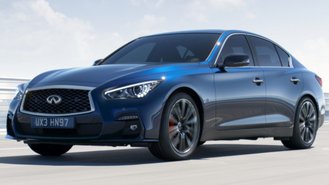 Early order guides for the 2020 Infiniti Q50 appear to suggest the brand may be doing away with the car's entry-level 2-liter turbo engine. If this proves to be the case, that will result in just two available engine options for the coming year, a 300 hp 3-liter turbo V6 and the 400 hp twin-turbo Red Sport.
Infiniti's order guide completely leaves out the 2-liter turbo, which, in its current form, makes just 208 hp. While a company spokesperson declined to confirm or deny the change, it certainly seems plausible. To date, Q50 sales have plummeted over 25% and the QX60 and QX80 are currently the brand's bestselling models.
Such a change could help differentiate the Q50 from its newer and more popular stablemate, the QX50. At $36,645, the 2019 Q50 2.0T is priced just $1,000 less than the QX50 ($37,645). The QX50 features a new platform and uses a high-tech variable compression 2-liter turbo rated at 268 hp.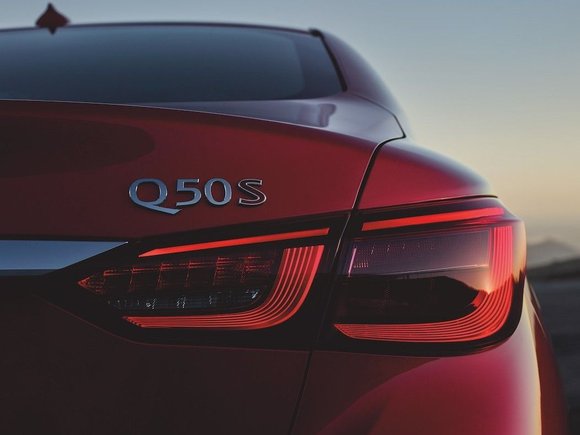 Now that cars have largely fallen out of favor, a more streamlined lineup could make sense. When the Q50 was introduced in 2014, the automaker adopted a multiple-powertrain strategy to target competitors like the 3-Series, which at the time ranged from the lukewarm 320i to the red-hot M3.
If Infiniti moves forward with only offering the Q50 with a V6, it would bring the car in closer parity with the Q60 coupe. The Q60 isn't sold with the 2-liter mill and is only offered with the 300 hp or 400 hp V6. So what could this mean for shoppers in terms of prices?
The fact is we don't know quite yet. That said, 3-liter Q50s currently start at $49,045, which is over $12,000 more than the 2-liter. Now that the roughly $36,000 QX30 has been discontinued, this could create an empty spot at the lower end of the brand's lineup.
While it may just be a coincidence, we think it's worth noting that Infiniti recently stopped advertising leases for the 2-liter Q50 on its website. At the moment, offers primarily focus on 3-liter versions. Here, the reason may not be what the average shopper might expect.
Unadvertised leasing bulletins show that the 3-liter Q50 LUXE and 2-liter Q50 PURE actually feature the exact same lease. Due to a big difference in residual values, both cars are listed at $299 for 39 months with $5,299 due at signing. That's despite a nearly $3,000 difference in MSRP.
Order guides indicate 2020 Q50 production is set to begin next month.
Learn more about the current Q50 available now »
2019 Q50 pictured