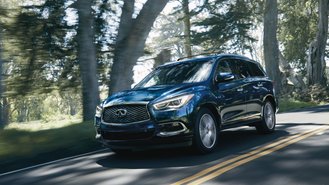 The 2020 Infiniti QX60 becomes the latest vehicle to be named a Top Safety Pick from the Insurance Institute for Highway Safety (IIHS). To get the safety rating, Infiniti made a mid-year change for the model that addressed its headlights, which is becoming a regular practice for automakers.
The changes that Infiniti made to the QX60 focused on the SUV's LED headlights. Vehicles built after May have headlights that earn a rating of "Acceptable" when they're paired with high-beam assist. With the headlights, the QX60 met the requirements to be named a Top Safety Pick, which includes earning a rating of "Good" in the institute's six crash tests, having a rating of at least "Advanced" for its front crash prevention system (the QX60's was "Superior"), and having headlights that earn at least an "Acceptable" rating.
This isn't the first time Infiniti has made changes to the QX60's headlights. Models built after August 2018 and before June 2019 had headlights that earned a "Marginal" rating. Headlights on SUVs manufactured before September 2018 were found to be the worst, as those have a rating of "Poor."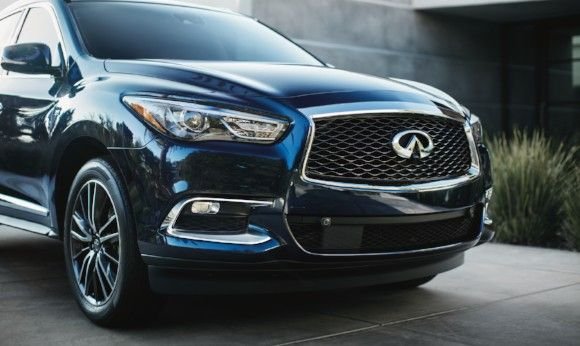 For the most recent changes, the 2020 QX60 Luxe trim comes with LED headlights as standard, but you have to get the ProAssist Package for an extra $1,950 to get high-beam assist. You also have to get the Essential Package to get the ProAssist bundle, and that's an extra $2,900. So the total for a QX60 that meets the IIHS' Top Safety Pick rating is $51,995 including destination. That's $6,650 more than the QX60's base price of $45,345.
Compared to other midsize luxury SUVs, the QX60 is aging quickly. The nameplate came out for the 2014 model year and received a facelift in 2016. Beyond that, Infiniti has made minor changes to the SUV since it was officially introduced. The changes to the vehicle's headlights help keep it competitive in terms of safety ratings, which is a major part of a purchase for consumers searching for a seven-passenger SUV.
With the new safety rating, the QX60 joins the Volvo XC60 as Top Safety Pick vehicles. The Acura RDX, BMW X3, BMW X5, Mercedes-Benz GLC-Class, and Mercedes-Benz GLE-Class are all Top Safety Pick Plus SUVs.