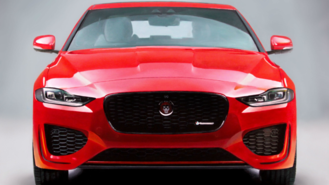 Jaguar will formally introduce the refreshed 2020 XE at the Geneva Motor Show. Somehow, the British automaker managed to make the model even prettier than before with a new exterior design, while adding more technology, too. Major news, though, includes the decision to axe the diesel engine for the U.S. market.

For the 2020 model year, the XE will only be sold with the turbocharged 2.0-liter inline-four. The engine will be offered in two outputs: 247 horsepower for the P250 trim and 296 hp for the P300. Rear-wheel drive is standard, while all-wheel drive is also offered. The turbo-diesel 2.0-liter motor will not be offered. The supercharged 3.0-liter V6 is also notably missing.

The automaker didn't provide any information on why it decided to kill the two engines, but the decision could be one of two things.
For one, diesels, especially after Volkswagen's Dieselgate scandal, are all but dead in America. Jaguar was one of the few brands that offered a diesel engine with the old XE 20d, and the only competition it faced was from the BMW 328d. Since BMW won't offer a diesel version of the new 3-Series in the U.S., it doesn't make much sense to have a vehicle that occupies its own space.

Then there's the second reason, which has to deal with availability. According to CNET's Roadshow, a spokesman from the brand told the outlet that offering only one engine simplifies things. The old XE model had roughly 31 versions to choose from. That number has significantly decreased to just three for 2020. That's a large difference that should make it easier for consumers to find the perfect XE.


The largest changes for the XE have been made on the inside of the model. The vehicle gets Jaguar's InControl Touch Pro Duo infotainment system as an option, which was transferred over from the I-Pace. The system includes a large 10-inch screen at the top and a smaller 5.5-inch unit at the bottom.

Other new tech goodies on the XE include wireless charging, a revised 12.3-inch digital gauge cluster, a digital rearview camera, and a driver-attention monitor. A head-up display, lane-keeping assist, Apple CarPlay and Android Auto compatibility, full LED lighting, as well as front and rear sensors are optional.

Pricing for the XE starts at $40,895, including the $995 destination fee, and go up to $47,290. The vehicle will arrive in dealerships this summer.