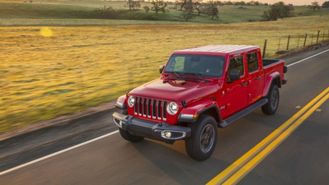 Fuel economy figures for the 2020 Jeep Gladiator have been announced and, unsurprisingly, they're exactly what you'd expect. With the same powertrain and measuring in at roughly the same size as the Wrangler Unlimited, the Gladiator gets nearly the same fuel economy as the SUV.

When equipped with the 3.6-liter V6 engine, an eight-speed automatic transmission, and four-wheel drive, the Gladiator is rated by the EPA to get up to 17 mpg in the city, 22 mpg on the highway, and 19 mpg combined. For comparison's sake, the Wrangler Unlimited with the same configuration is rated at 18 mpg city/23 mpg hwy/20 mpg combined. Opt for the six-speed manual transmission with the Gladiator, and those figures are 16 mpg city/23 mpg hwy/19 mpg combined.

Jeep does offer the Wrangler with a hybrid powertrain that includes a 2.0-liter inline-four and an electric motor. When equipped with that setup and the automatic transmission, fuel economy is rated at 22 mpg city/24 mpg hwy/22 mpg combined. So the regular Wrangler Unlimited isn't far behind the hybrid, and the Gladiator is marginally worse. This makes plenty of sense logically and was exactly what we were expecting.

When it comes to midsize pickups, the most fuel-efficient option on the market is the Ford Ranger. When optioned with two-wheel drive, Ford's truck can get up to 21 mpg city/26 mpg hwy. The Chevrolet Colorado and the GMC Canyon are rated to get 20 mpg city/26 mpg hwy with rear-wheel drive. The Tacoma isn't far behind with a rating of 20 mpg city/23 mpg hwy for models sending power to just the rear wheels, while the Nissan Frontier lags behind with a rating of 19 mpg city/23 mpg hwy for models with rear-wheel drive and the manual transmission.