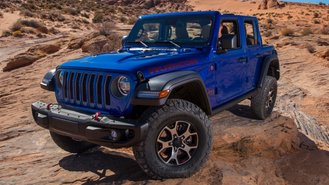 After months of waiting, the EPA has finally unveiled fuel economy figures for the 2020 Jeep Wrangler's available 3.0-liter EcoDiesel V6 engine. Say what you want about diesel engines, but the powertrain becomes the most efficient offering of the lineup. It carries an official rating of 22 mpg in the city, 29 mpg on the highway, and 25 mpg combined.
The combined rating of 25 mpg is the highest figure we can remember seeing in a Wrangler. We've seen the Wrangler carry a combined rating of 24 mpg before, with both the 2018 and 2019 models with the turbocharged 2.0-liter four-cylinder engine and eight-speed automatic transmission. But 25 mpg combined is new territory for the boxy SUV. It's also incredibly close to what the Jeep Cherokee, a far more aerodynamic and road-going SUV than the Wrangler can get, as that SUV is rated at up to 26 mpg combined.
The second most efficient powertrain is the turbocharged 2.0-liter four-cylinder with an eight-speed automatic transmission that can get 23 mpg combined. The base 3.6-liter V6 with either the eight-speed automatic or six-speed manual follows closely behind with a combined rating of 20 mpg.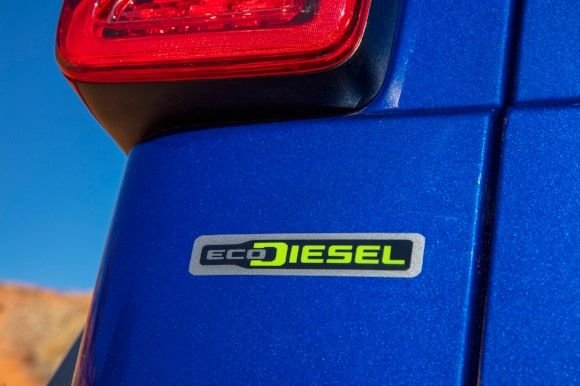 Despite being the most efficient powertrain combination, the EcoDiesel engine is a pricey option. For the base Wrangler Unlimited Sport, it's a $4,000 upgrade just for the engine. But when you add the mandatory eight-speed automatic, the limited-slip differential, and the 3.73 rear axle ratio, it actually costs a whopping $6,000 more. Depending on the way you drive, the EPA estimates that you'll save $200 a year on fuel by going with the diesel, so it's going to take a very long time to see any benefits from the diesel engine from an economic standpoint.
Still, the engine offers quite a lot more torque than any of the Wrangler's other engines. The EcoDiesel V6 is rated at 260 horsepower and 442 pound-feet of torque. The four-cylinder makes 270 hp and 295 lb-ft of torque, while the 3.6-liter V6 is good for 285 hp and 260 lb-ft of torque. For the majority of consumers, the torque will be the main reason to buy the diesel engine with good fuel economy being an added benefit.