2020 Kia Niro EV prices will increase $590 but bring no advantages in terms of range, a dealer order guide reveals. As a result, the brand's only fully-electric vehicle in the U.S. will continue to be more expensive than the Hyundai Kona Electric yet offer at least one key advantage compared to some of its competitors.
At the entry-level, the Niro EX will start at $40,210 after a destination fee of $1,120, while the better-equipped EX Premium has been priced from $45,710. Both of these prices represent an increase of $590 compared to the 2019 Niro EV, which ranges from $39,620 to $45,120 before state & local incentives.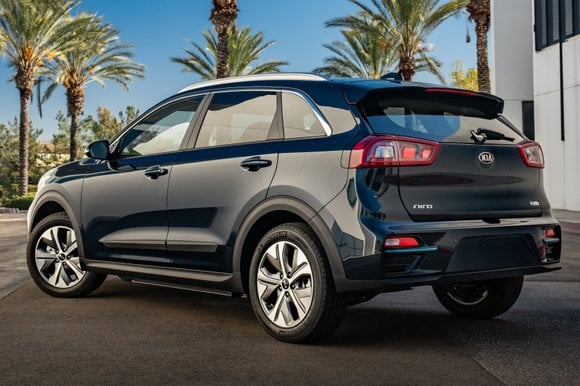 Fuel economy figures on the EPA's website reveal the model will continue to provide 239 miles of range with a fuel economy rating of 112 MPGe. For comparison, the 2020 Hyundai Kona Electric has been on sale at dealers since last fall and starts at $38,310 with a rating of 120 MPGe and range of 258 miles.
Will consumers really pay an extra $1,900 for an EV with less range?
While the Niro is certainly a late arrival here in the U.S., it comes well ahead of the redesigned Kia Soul EV. The revamped hatchback was due a year ago with up to 243 miles of range but was eventually delayed to 2021 due to production issues related to its battery and motor.
According to the IRS, the 2020 Niro remains eligible for a full $7,500 tax credit unlike the Tesla Model 3 and Chevy Bolt EV. Kia also offers hybrid and plug-in variants of the Niro, both of which currently have some of the most aggressive green car incentives.
Explore Kia's Current Lineup »
2019 Niro EV pictured