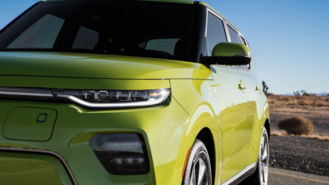 Just like before, the all-new, third-gen Kia Soul will be available in an electric variant. The 2020 Kia Soul EV, according to the EPA, will have a range of 243 miles on a single charge. That's a drastic improvement over the previous Soul EV, which had a range of 93 miles, and puts the EV toward the top of the electrified pack.
The large increase in range is due to the vehicle's 64-kWh battery pack. The old one used a 27-kWh lithium-ion battery. In addition to having more range, the 2020 Soul EV also has more power. The vehicle's electric motor now cranks out 201 horsepower and 291 pound-feet of torque. Once again, those are major improvements from the old model, which was rated at 109 hp and 210 lb-ft of torque.
With an official range from the EPA, the Soul EV bests the Nissan Leaf E Plus, Chevrolet Bolt, and Kia Niro Electric. In order, the Leaf E Plus has a 226-mile range, the Bolt has a range of 238 miles, and the Niro Electric can travel 239 miles on a single charge. The Hyundai Kona Electric and the Model 3 (depending on what configuration you go with) have larger ranges. The Kona Electric is rated at 258 miles, while the best-equipped Model 3 has a range of 310 miles.
When it comes to charging, the Soul EV can be hooked up to a fast charger that can deliver 80 percent of a full charge in an hour. If you plug the vehicle into a Level 2 charger, a full charge will take 9 hours and 35 minutes.
From the looks of it, the Soul EV is an impressive electric car. It's got the range to compete with the big boys, but we're still waiting to hear about pricing. Pricing for the Leaf Plus and the Niro Electric are still up in the air, too. But Kia's known for being a value brand, so we're expecting pricing to be competitive.