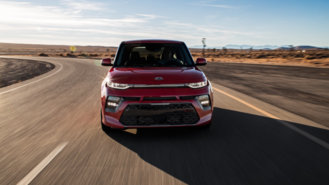 For the 2020 model year, Kia gave its funky Soul a major redesign. The third-gen Soul is all new, including a new platform, a new engine, and a new look. While the hamsters are gone, the Soul's hip and affordable character still exist. The EPA released its official fuel economy figures for the new Soul, and the compact hatchback/crossover is more efficient than before.

The Soul "Eco dynamics" version has the most fuel-efficient rating in the lineup, boasting up to 29 mpg in the city, 35 mpg on the highway, and 31 mpg combined. To get those numbers, you'll need to go with the new base 2.0-liter four-cylinder engine that makes 147 horsepower and 132 pound-feet of torque and the continuously variable transmission (CVT).

The most efficient Soul from last year came with the 201-hp turbocharged 1.6-liter four-cylinder engine and a 7-speed dual-clutch transmission. That model was rated at 26 mpg city/31 mpg hwy/28 mpg combined.

Going with one of the new Soul's non-Eco models nets 30 mpg combined. If you go with the six-speed manual transmission, you're looking at 27 mpg.

The main items helping the Soul be more efficient than before is the new 2.0-liter four-cylinder engine and the available CVT. The latter is shared with the 2019 Forte. Consumers seeking more oomph can still opt for the turbocharged 1.6-liter four-cylinder that pumps out 201 hp. That engine is still paired to a seven-speed dual-clutch transmission.


The Soul fits into the EPA's station wagon segment, which includes the Volkswagen Golf SportWagen, Nissan Kicks, and Subaru Impreza 5-Door. Out of those options, the Kicks is the most fuel efficient with a rating of 33 mpg combined, while the SportWagen follows closely behind with a 32 mpg combined rating. The Impreza is on par with the new Soul with a rating of 31 mpg combined.

In the overall compact segment, options like the Honda Fit (36 mpg combined), Honda Civic (36 mpg combined), Corolla Hatchback (36 mpg combined), Hyundai Elantra (35 mpg combined), and Kia Forte (35 mpg combined) are all more efficient.